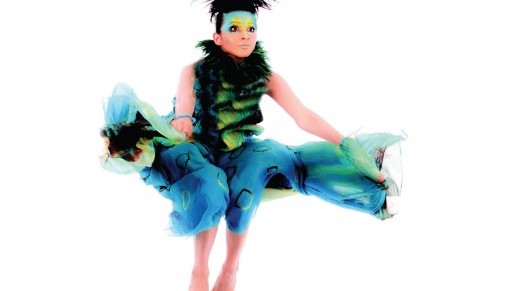 ---
KARACHI: She moves to the beat. She pauses for a second. She again moves to the beat of rhythm and so do her three performers. On tip-toe. Just like a ballerina.

She knows just how to mesmerize the audience - even if it is just one person. Meet Joshinder Chaggar, the choreographer and dance instructor who is all set to take us by storm with her upcoming performance this May.

Scheduled to take place at Karachi's Arts Council Auditorium will be "Conversation" - a contemporary dance which will be experimental dance dealing typically with the animal kingdom; for interestingly there are birds, an earthworm and even a cat exploring the depths of a human life. "'Conversation' is actually Josh's own baby", says Chaggar's supportive partner Khalid Malik. Joshinder Chaggar is a trained dancer in Bharatanatyam (an Indian classical dance form that originated in Tamil Nadu.)

She earned a degree in Contemporary Dance from Deckin University at Melbourne and has been a choreographer for over a decade and until three years ago was associated with a world dance company in Sydney. Three years ago, Chaggar decided to move to Pakistan with Khalid. She picked up a few words of Urdu, now she can speak it fluently. Her move to Karachi proved to be a good idea, as she was literally hired the day after her arrival to choreograph for a local television channel.

Chaggar started hosting a TV show, was busy dancing and even teaching at the National Academy of Performing Arts (Napa). She appeared in the video for Zeb and Haniya's "Aitebar" and choreographed Amanat Ali's debut video, "Kohram". Last year, she gathered a handful of her students at Napa and saw that they shared a deep commitment for theatre and dance and were willing to explore various dance movements in class.

She realised it was worth sharing with the world at large and thought, "I would definitely pay to watch this." Next came the idea of creating an original piece (apart from the music, which has been taken from various albums). At Chaggar's studio, she is busy working with the other three performers from "Conversation". She instructs the dancers as they break into groups of two or three. "Conversation" is all about having a conversation and dialogue with your body; and engaging the audience.

It is riveting, and will definitely knock the socks off Karachiites when it is staged in May.
COMMENTS (1)
Comments are moderated and generally will be posted if they are on-topic and not abusive.
For more information, please see our Comments FAQ