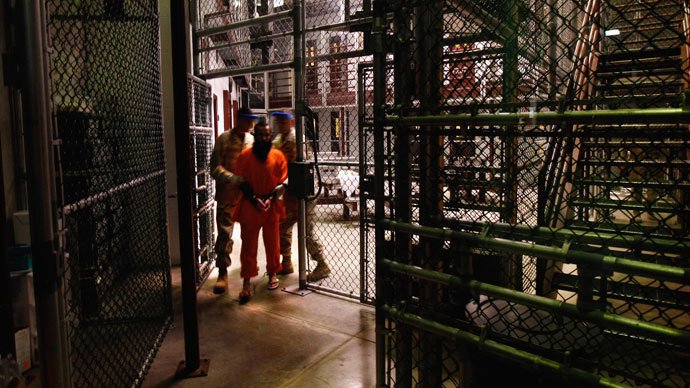 ---
WASHINGTON: The United States has transferred six men from its Guantanamo Bay prison to Oman, the Department of Defense said Saturday, amid an ongoing push by President Barack Obama to close the jail.

"The United States is grateful to the government of Oman for its humanitarian gesture and willingness to support ongoing US efforts to close the Guantanamo Bay detention facility," the department said in a statement.

Read: Pakistani detainee at Guantanamo Bay alleges CIA sexual abuse, torture beyond Senate findings

The six men were named as Idris Ahmad Abd Al Qadir Idris, Sharaf Ahmad Muhammad Masud, Jalal Salam Awad Awad, Saad Nasser Moqbil Al Azani, Emad Abdallah Hassan and Muhammad Ali Salem Al Zarnuki, according to the statement.

US media reported that all six detainees were Yemeni.

The transfer means 116 inmates remain at the controversial prison, which is located at a US naval base in southeastern Cuba.

Read: US Defense Secretary working on plan to close Guantanamo prison

Saturday's announcement marked the second Guantanamo prisoner transfer this year, after the Pentagon announced in January that is had moved four men to Oman and one to Estonia.

A total 28 inmates were transferred out of Guantanamo in 2014.

Thwarted by Congress in his effort to close the prison, Obama has had to rely on a handful of countries that have agreed to accept detainees.

The prison was set up to hold alleged terror suspects after the September 11, 2001 attacks. But human rights groups have condemned the jail as a "legal black hole", where inmates languish for years without being tried in court.
COMMENTS (1)
Comments are moderated and generally will be posted if they are on-topic and not abusive.
For more information, please see our Comments FAQ