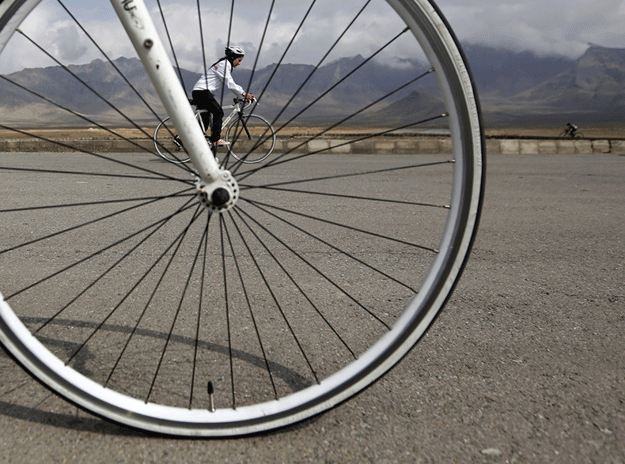 ---
BAMIAN: Zahra Hussaini, a university student, wasn't aware that she would go on to start a significant movement in Aghanistan's Bamian region simply by pushing a pedal.

But then again, she was never one for attention. In fact, she would disguise herself in men's athletic clothing when she first riding a bike.

Under the Taliban in the 1990s, women in Afghanistan were excluded from public life, banned from going to school or stepping outside their home without a male family member. Women's rights have improved since the hardline Islamist group was ousted in 2001, but observers worry that progress is at risk as gender-based violence persists and women remain under-represented.

Husseini was born in Iran and later moved to Herat province in Western Afghanistan. While in Iran, she taught herself to ride a bike out of interest, in Afghanistan she rides out of necessity.

Bamian is a relatively peaceful region of Afghanistan although it has no history of women driving cars or riding bikes. Husseini had her first fearful encounter on the road one morning in 2012, when she crashed into an old man.

Read: Nearly 7-years on: Pakistan to host Women's Squash

"The road was slippery and I crashed my bike into an old man standing on the street," Hussaini said.

Not realising the rider was a young woman, the man said, "If you don't know how to ride, then don't bother." When Husseini became more comfortable riding a bike, she started dressing as herself.

While she was often subjected to mockery and scoffs, it didn't deter her from riding a bike. "No one ever outright insulted me and I just brushed their words off," she said.
PHOTO: REUTERS

Since their dorms are miles away from campus, many students at the central Afghan Bamian University face trouble and are forced to walk. Husseini took the opportunity to teach female students how to cycle. Five young women whom she trained made it to Afghanistan's national cycling team.

Hussaini eventually began giving lessons to men as well, including an official at her university who purchased bicycles for himself and his wife and daughter.
PHOTO: REUTERS

Hussaini continued to bike even after she got a job as a secretary to former provincial Governer Habiba sarabi. She rode her bike to work with the support of her boss and the head of Afghan Independent Human Rights Commission.

Hussaini continued her campaign called it, 'Randan Haq-e-mast,' meaning 'Biking is our right.'

She says that after more men and women took up cycling some of the religious backlash almost died down. "No one really ever came out in support," she said, "but they did stop bringing it up."

Combining her love for cycling with her passion for the historical sites of Bamian, Hussaini arranged Tour De Bamian, a 22-mile ride that drew a hundred participants; men and women and took cyclists on a route that includes 6th century Buddha statues destroyed by Taliban militants in 2001, the ancient citadel city of Gholghola and other landmarks.

"Bike riding is good for the environment and health," she said. "I, of course, want more women everywhere to join in." The article originally appeared on LA TIMES
COMMENTS (1)
Comments are moderated and generally will be posted if they are on-topic and not abusive.
For more information, please see our Comments FAQ