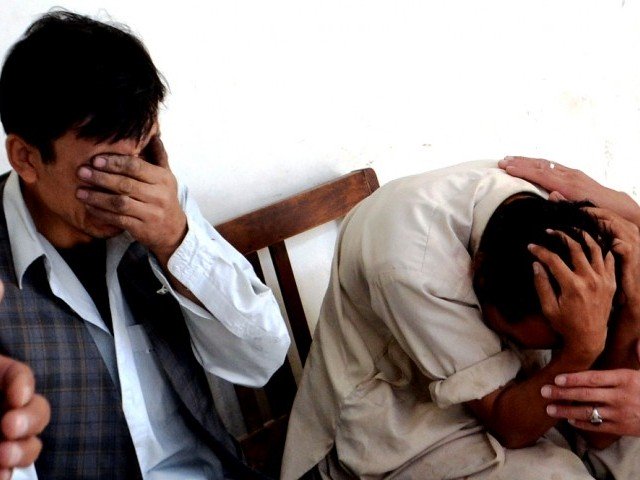 ---
QUETTA: At least five people belonging to the Hazara community were gunned down in Quetta's Circular Road area near Meezan Chowk Sunday evening.

Unidentified armed men on two motorcycles opened indiscriminate fire on the victims outside tea shops.

Four of them died on the spot, while one person was shifted to CMH Quetta, where he succumbed to his injuries.

Bodies of the deceased were shifted to the civil hospital and the CMH. They have been identified as Mohammad Ali, Mohammad Idrees, Kazim, Zeeshan and Nematullah.

Read: Four policemen killed in Quetta gun attack

As news of the attack spread, the main bazaars of Quetta shut down.

Police and FC cordoned the area, and initiated an investigation.

According to police sources, five people were detained for interrogation.

No group had claimed responsibility for the attack till the filing of this report.

A large number of men, women and children from the Hazara community, including relatives of the victims staged a protest in Meezan Chowk, and demanded the arrest of the culprits behind the attack.

Meanwhile, Prime Minister Nawaz Sharif took notice of yet another incident of targeted killing against the Hazara community and ordered swift arrest of the culprits behind the incident.

In a statement issued on Sunday, he also condoled with the bereaved families for their irreparable loss.

Earlier on May 27, two Hazaras were shot dead near Meezan Chowk.

On Saturday, gunmen shot dead four policemen — including a sub-inspector — in a targeted attack in a troubled suburb of the provincial capital.

Read: Two more Hazaras gunned down in Quetta

The gunmen riding motorcycles pulled up near a police mobile van parked near a post office on Mullah Abdul Salam Road in the Pashtoonabad neighbourhood and shot dead all those on board, according to Abdul Razaq Cheema, the capital city police officer (CCPO).