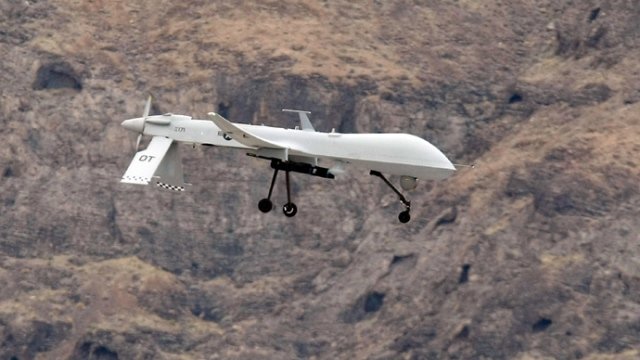 ---
MIRAMSHAH: Remotely-piloted American aircraft struck in the mountainous Shawal Valley of North Waziristan Agency on Saturday, killing at least nine militants – some of them from the deadliest faction of the Afghan Taliban – and injuring another four.

Civil administration officials said a US drone launched two missiles which struck as many compounds belonging to Taliban militants in the remote valley. Soon after another pilot-less aircraft fired two missiles at two double-cabin SUVs in which some surviving militants were trying to escape, he added.

The missile strikes decimated the compounds and reduced the SUVs to heaps of mangled metal. Nobody came near the compounds or the vehicles that burnt in a fire triggered by the missile strikes as a third US drone flew overhead for half an hour.

A security official based in Peshawar confirmed the attack and casualties.

Local intelligence authorities said the dead militants belonged to the Haqqani Network, the dreaded faction of the Afghan Taliban which targets foreign troops across the border in Afghanistan. "An important meeting of militants was in progress at the compound when the missiles launched by US drones hit it," a local intelligence official told AFP.

Officials quoted informers as saying that four the slain militants were foreigners who were associated with the banned Tehreek-e-Taliban Afghanistan.

It was the 9th attack by US drones in North Waziristan since the Pakistan military launched a major operation, codenamed Zarb-e-Azb, in the region which was once considered a stronghold of homegrown Taliban and their foreign cohorts.

According to official stats, more than 2,000 militants have been killed in Operation Zarb-e-Azb since its launch in mid-June, last year. However, the area is generally off-limits to journalists, making it difficult to independently verify the figures.

The military claims most areas of the tribal agency have been cleansed of militants, though some pockets of resistance still remain. Accordingly, hundreds of thousands of tribesmen displaced by the military operation and housed in temporary shelter camps in different cities of Khyber-Pakhtunkhwa have started returning to their homes in the areas declared safe by the military. 

Published in The Express Tribune, June 7th, 2015.
COMMENTS
Comments are moderated and generally will be posted if they are on-topic and not abusive.
For more information, please see our Comments FAQ