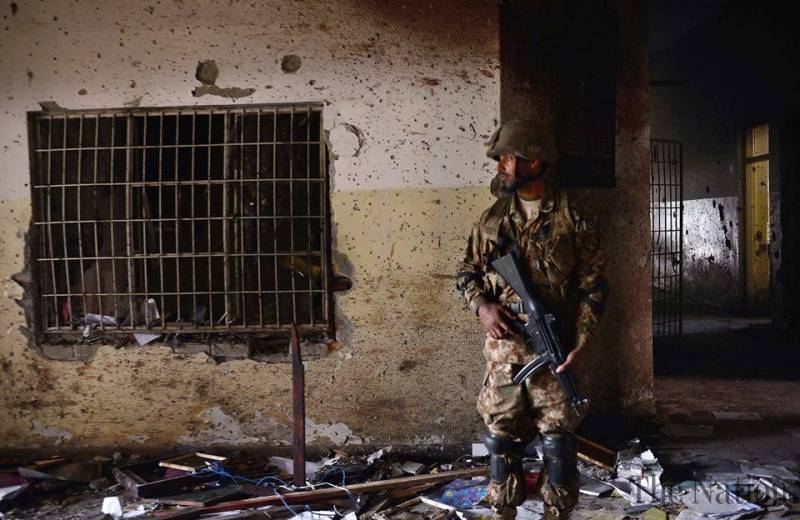 ---
ISLAMABAD:



Despite having allocated tens of billions of rupees to fight the war against terrorism, the federal government hasn't been able to find any room in its budget for the National Counter-Terrorism Authority (Nacta).




With absolutely no mention of Nacta in the budget documents, Finance Minister Ishaq Dar claimed on Saturday at the sidelines of his post-budget press conference, that Nacta's budget is part of the interior ministry's allocations. However, that claim was quickly denied by a senior interior ministry official, who told The Express Tribune that the matter has in fact not been resolved yet and that he would be meeting key government officials next week for a solution.

"We are optimistic that the [finance ministry] would accept all our demands and release the much-awaited tranche to strengthen the anti-terror body, which has not been made vibrant since its inception in 2009," said the official, who wished to remain anonymous.

The senior security official said that Nacta had been seeking funding through the interior ministry for fiscal 2015. While the interior ministry has administrative control of Nacta, the agency reports directly to the prime minister in its functional affairs.

The strengthening of Nacta is at point number four of the unanimously adopted 20-point National Action Plan (NAP) against terrorism was announced following the attack on Army Public School (APS) in December 2014.

The ministry had requested Rs960 million from the finance ministry for the activation of the counter-terrorism body, a senior official said. "The government had sent back this [request] to the ministry raising some objections and we had answered to all these objections," he added.

Before this, Nacta had sent a request for Rs46 million to the finance ministry. Nacta is working with a tiny staff and most of the positions at the authority are vacant.

However, funding is not the only concern facing Nacta. In his testimony before parliament a few days ago, Interior Secretary Shahid Khan said that a 'dearth of funds' was not the only hurdle that stands in the way of the anti-terror body.

Without delving into details, he said that progress in some areas outlined in the NAP had been dismal. But he pointed out that NAP is a set of recommendations and not a legislative draft. He said the interior ministry would brief lawmakers on the procedural hurdles that have reduced Nacta to a mere 'paper tiger'.

Yet despite the rhetoric, the government has also failed to establish a joint intelligence directorate. The proposed directorate, which had to function under Nacta, was being set up for coordination and intelligence-sharing among 26 spy agencies to curb terrorism in the country.

Published in The Express Tribune, June 7th, 2015.
COMMENTS (5)
Comments are moderated and generally will be posted if they are on-topic and not abusive.
For more information, please see our Comments FAQ