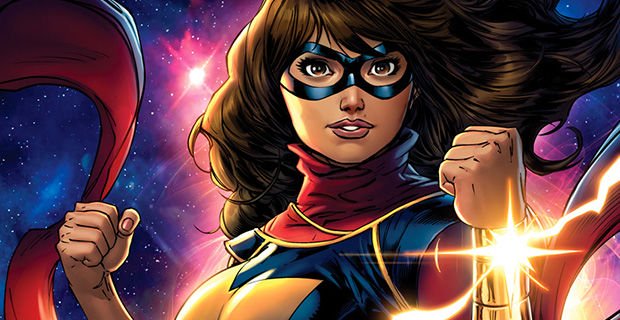 ---
Pakistani-American born Marvel super hero Kamala Khan has already conquered comics, now she's joining the animated world with Earth's Mightiest Heroes in the third season of Disney XD's Avengers: Ultron Revolution.


On Monday Disney XD announced that Marvel's Avengers Assemble would be returning to the cable network under the name Avengers: Ultron Revolution and featuring some new faces.

Comic Book Resources has confirmed that Ms. Marvel (Kamala Khan) will feature alongside super heroes like Black Panther, Captain Marvel and Ant-Man in the animated series.


PHOTO: COMICVINE

Here's a synopsis for the series' third season:

In season three of Marvel's Avengers: Ultron Revolution, the Avengers are not only shocked by the return of a vengeful Ultron, but they also encounter new threats like Baron Zemo, the Masters of Evil, the Inhumans, and the futuristic Kang the Conqueror. It's only with the help of heroes like Black Panther, Captain Marvel, Ant-Man and Ms. Marvel that they have a chance of surviving an all-out Marvel super hero Civil War.

Twitter exploded with fans happily tweeting about the news:


Here's a version of Kamala Khan Ms Marvel with a transparent background. I'll draw one in tomorrow :) pic.twitter.com/WG1icuFmkE

— MJC (@marcyjcook) June 5, 2015
Hell yes! #KamalaKhan https://t.co/MsqsZFDnmn

— richa⁷ (@RichaOkh) June 4, 2015
Such exciting news about Kamala Khan! I love the character; @GWillowWilson has created something special. #MsMarvel https://t.co/kgCKtpV4xp

— SF Said (@whatSFSaid) June 3, 2015

https://twitter.com/ilikecomicstoo/status/606099710550536195

Cool, Ms. Marvel Kamala Khan is being added to the Avengers cartoon next season! (next step, the movies?) http://t.co/2SxyCOYcSV

— Diamond Feit 💎 ✨ ♥️ (@feitclub) June 3, 2015

https://twitter.com/SidizenKane/status/605875584749551616


PHOTO: WIKIPEDIA

Created by writer G. Willow Wilson, artist Adrian Alphona, Wacker (then a Marvel editor) and editor Sana Amanat, Kamala Khan first debuted in 2013's Captain Marvel #14, before starring in her own critically acclaimed solo series early the following the year. A rare example of both a Muslim and Pakistani American superhero in North American comic books, the character quickly gained mainstream attention for being a positive example of increasing diversity in the comics industry, along with a loyal fanbase enthusiastic for its compelling, all-ages stories.


PHOTO: THEMARYSUE

Kamala has shape-shifting powers and is able to change her appearance or parts of her body at will. She also has the ability to stretch her body in almost any way imaginable.



PHOTO: MARVEL.WIKIA

What's fascinating about the character is how clearly she's embedded into the tradition of superhero comics, and how you can draw a direct line from her back through Marvel's history. The upcoming reason is set to debut sometime in 2016.
COMMENTS
Comments are moderated and generally will be posted if they are on-topic and not abusive.
For more information, please see our Comments FAQ