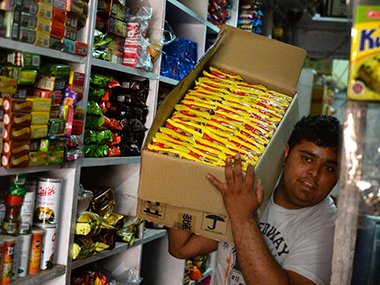 ---
NEW DELHI: Nestle India announced Friday that it was withdrawing popular instant noodles Maggi, citing "an environment of confusion" as local authorities raised safety concerns after different states found high lead levels in its packets.

"Unfortunately, recent developments and unfounded concerns about the product have led to an environment of confusion for the consumer," Nestle India said in a statement.

"We have decided to withdraw the product off the shelves, despite the product being safe," it added.

At least four states including India's capital have announced a temporary ban on the sale of Maggi in the last few days after officials claimed that lab test results showed high lead levels in its packets.

New Delhi's health minister Wednesday announced a 15-day ban, ordering Nestle India to recall and replace tens of thousands of packets in stores throughout the city.

Read:India capital bans Nestle noodles in growing lead scare

Food inspectors in the neighbouring state of Uttar Pradesh said late last month that they had found high lead levels in two dozen Maggi noodle packets during a routine testing.

The inspectors said they had also found flavour enhancer MSG (monosodium glutamate), which is not listed in the ingredients, and subsequently filed a criminal complaint against Nestle India over the findings.

Many big and small stores across India have already voluntarily removed the product from their shelves.

The Future Group, one of the biggest retailers in the country, earlier said that the noodles were being removed from its more than 500 stores.

"We promise that the trusted Maggi noodles will be back in the market as soon as the current situation is clarified," Nestle India's brief statement said on Friday.
COMMENTS
Comments are moderated and generally will be posted if they are on-topic and not abusive.
For more information, please see our Comments FAQ