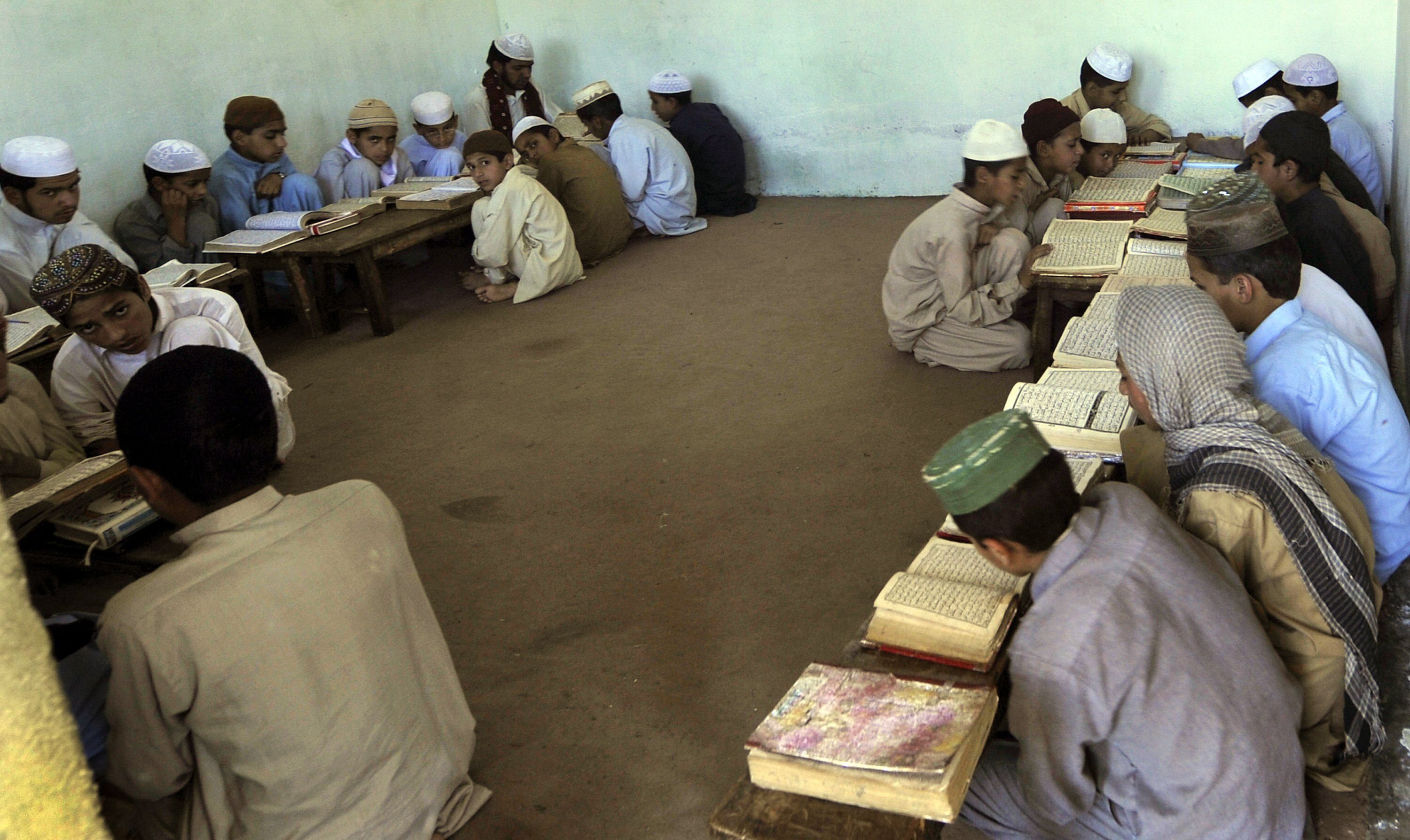 ---
KARACHI:



The provincial government has identified 48 madressas across Sindh that are promoting terrorism and has decided to put an end to their operations.




This decision was made during a meeting of the provincial apex committee on Thursday. The meeting that was chaired by Sindh Chief Minister Qaim Ali Shah, who was told that the government will take the Wafaqul Madaris into confidence before going after the seminaries that have now turned into hatcheries of terrorists.

In Karachi, these seminaries are located in New Karachi, Surjani Town, Gadap, Malir, Landhi, Manghopir, Kunwari Colony, Sultanabad, Baldia Town, Keamari and Orangi Town. "After imparting training, these madressas provide recruits for terrorist activities in various areas of the country, including Sindh," the intelligence officers shared.




The government will also cut off the sources of finance for these seminaries through necessary administrative, legal and legislative measures. To follow through with these plans, Shah decided to constitute a taskforce, which will be notified shortly, to suggest ways to curb funding sources to these madrassas.

Later, information and local government minister Sharjeel Memon gave a briefing on the decisions made during the meeting. The names of the seminaries were shortlisted with the help of information collected by the intelligence and law enforcement agencies.

The funding for violence and terrorism has deep roots in ill-gotten money, said Memon. "There are different sources," he said, listing examples, such as extortion from different government and private institutions, individuals, collection of donations, forced and voluntary collection of hides, fitra, kidnapping for ransom, payments to ghost employees, land grabbing, and smuggling particularly of Iranian oil.

"The government will enact laws to stop the smuggling of Iranian oil," said Memon. "We will seal the petrol pumps selling smuggled petrol and arrest the owners."

Going separate ways

A separate lane will be established at all exit and entry points of Sindh so that all incoming and outgoing vehicles are scanned through the biometric system, Memon announced. "These checkpoints will be manned by representatives of police, Rangers, Customs, FIA and other relevant organisations," he said. "The entire system will be computerised and checking will be done scientifically."

The chief minister told the IG, the Sindh advocate-general and prosecutor-general to induct efficient investigators who take ownership of cases and take the culprits to task, said Memon. "This is a mission and you have to fulfil it by collecting solid and scientific evidence," he quoted Shah.

Attendance

Memon announced that the biometric system was being installed to record the electronic attendance of all employees at government institutions, particularly in local bodies and education departments to prevent ghost employees.

The meeting was attended by Sindh Governor Dr Ishratul Ebad, finance minister Murad Ali Shah, parliamentary affairs minister Dr Sikandar Mandhro, home minister Sohail Siyal, corps commander Lt General Naveed Mukhtar, Rangers DG Bilal Akbar, Sindh IG Ghulam Hyder Jamali, home secretary Mukhtiar Soomro , commissioner Shoaib Siddiqui and others.

Published in The Express Tribune, June 5th, 2015. 
COMMENTS (10)
Comments are moderated and generally will be posted if they are on-topic and not abusive.
For more information, please see our Comments FAQ