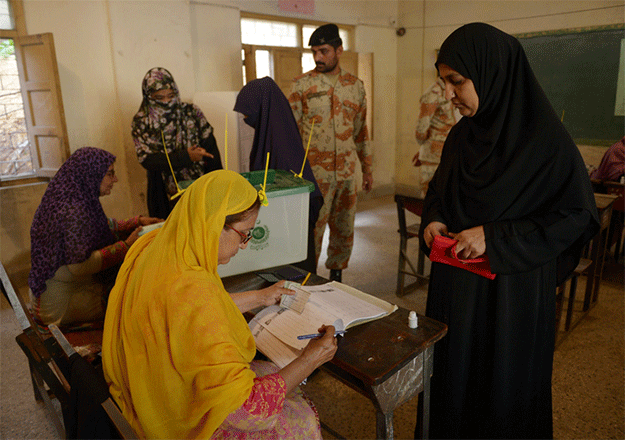 ---
PESHAWAR: Rights activists welcomed the "historic" decision taken by the Election Commission of Pakistan to re-poll in PK-95, Lower Dir-II after women were not allowed to vote. They urged the commission to follow the same precedent when scrutinising local government poll proceedings.

Women's suffrage has traditionally been an issue in Dir. Women there have seldom turned up in significant numbers to cast ballots in the electoral history of the country.

The supressed reaction of this oppression built up over the years and burst through after the by-polls last month. It is said not a single woman from the district's 53,000 registered female voters turned up at polling stations. Like the 2013 general elections, political parties were once again accused of 'silently' agreeing to not allow women to vote. Although the seat, vacated by Jamaat-e-Islami chief Sirajul Haq, was retained by the party, the all-men affair drew the ire of political leaders and human rights activists.

NGO Aurat Foundation had facilitated 12 women from the constituency who filed a petition, through their counsel Shahab Khattak, with the Peshawar High Court against the by-poll. Talking to The Express Tribune, the organisation's resident director Shabina Ayaz appreciated the decision. She added there is still a long way to go. "It is essential that political parties mobilise women," she said.

Awami National Party senior vice president Bushra Gohar is another leader who raised her voice against the disenfranchisement of women in Lower Dir. Her party had also been accused of colluding against women in the constituency.

"It is a bold decision of the ECP but adequate measures are needed to ensure no one denies women their basic rights," she said. Commenting on the cultural dynamics of the area, Gohar said a large number of polling stations were for both men and women. "It does not help. Not setting up separate stations for women means you have deprived them of the right," she added.

The activists hoped the decision will have its domino effect across the province's local government.

The decision has clearly left the Jamaat-e-Islami unimpressed, whose Izazul Mulk Afkari had edged out opponents in the by-poll.

JI Lower Dir spokesperson Malik Sher Bahadur said the party will challenge the decision with the Islamabad High Court. "Women were not deliberately barred from voting. The entire hue and cry is initiated by West-backed NGOs," he maintained. Bahadur added the party will also take to the streets against the decision he termed biased.

Independent observers believe mainstreaming women in the electoral process could turn the tide of election outcomes in several districts. However, the disenfranchisement is said to be beyond cultural constraints and a lack of awareness of political processes is cited as a fundamental hurdle.

Published in The Express Tribune, June 3rd, 2015.