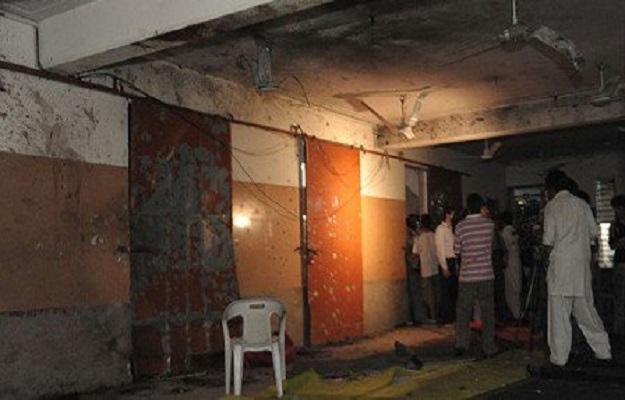 ---
LAHORE:



Five years ago, 86 people died and over 150 were injured in attacks on two Ahmadia worship places in the city.




On January 17, 2014, an anti-terrorism court sentenced to death two people who attacked the worship places. The attackers had been captured from their Model Town worship place during the attack.

Saleemuddin, a spokesperson for the Jamaat-i-Ahmadia, recalls that Lahore used to be a city of peaceful coexistence. That has, however, changed with the emergence of several organisations seeking to target Ahmadis in various ways.

"After the May 28 attacks, several of our worship places have been damaged. Cases have registered against several Ahmadis for offering prayers and sacrificing animals on Eidul Azha."

"More than 150 graves were desecrated at a historic graveyard in Model Town," he says.

He says over the last five years, scores of Ahmadi students have been expelled from educational institutes or denied admission on account of their faith. Several Ahmadi teachers have also been fired because of their faith, he says. Recently, five of their publications were banned and several organisations ran advertisements in this regard. "Banners supporting the ban have propped up in the city."

Targeted attacks

In 2006, three Ahmadis were murdered because of their faith and 30 others were implicated in cases in various parts of the country.

In 2007, five Ahmadis were killed and 94 were implicated in cases involving religious matters.

In 2008, six Ahmadis were murdered and 94 were implicated in various cases across the country. A court in Badin ordered an Ahmadi worship place there to be sealed. Residents of Rabwah were implicated in an FIR registered under Section 298-C of the PPC for celebrating a religious ceremony that year.

In 2009, 11 Ahmadis were murdered and several others were assaulted, 71 people were booked.

In 2010, before the May 28 attack, two Ahmadis in Rabwa were imprisoned and fined for posing as Muslims. In Mirpur, three Ahmadis were sentenced to two years for posing as Muslims. After the May attacks, in 2010, 60 Ahmadis were implicated in cases involving religious matters. That year, government authorities ignored Ahmadis during its flood relief activities in south Punjab.

In 2011, five Ahmadis were killed and 12 were implicated in various cases. Ten Ahmadis survived targeted attacks. Anti-Ahmadia literature and pamphlets were distributed throughout the year in various parts of the city. In Lahore, 15 students of three educational institutions were expelled. Three teachers in Lahore were removed from schools for being Ahmadi. The principal of a law college faced removal for being an Ahmadi. Quranic verses were removed and the minarets of five Ahmadi worship places in various cities were demolished. Tombstones in two Ahmadi graveyards were removed by police on applications by anti-Ahmadia elements. Three incidents were reported in which Ahmadis were stopped from burying their dead in common graveyards.

During 2012, 20 Ahmadis were killed and eight were shot and injured; 49 were implicated in various cases and the minarets and Quranic verses in seven mosques were removed. Anti-Ahmadia groups removed tombstones carrying Islamic epithets of 150 graves.

In 2013, seven Ahmadis were killed and 16 others were attacked for their faith. More than 1,700 news reports and more than 394 articles against Ahmadis were published during the year.

Last year, 11 Ahmadis were killed by private hitmen. One was shot dead in police custody. An American cardiac surgeon was among those shot dead in Rabwa. In Gujranwala, a mob attacked Ahmadi residents, ransacked their homes and set them on fire. A woman and two of her granddaughters including a seven-month old baby were burnt alive.

Ahmadia community 'more vulnerable today, than ever before'

Saleemuddin laments that the Ahmadia community feels more vulnerable today than it ever has. There has been a wave of anti-Ahmadia sentiment and discrimination on the basis of religion in the country, he said. Scores of new anti-Ahmadia groups have surfaced in Lahore, he says. "Their agenda is simple: cleanse Lahore of Ahmadis."

After the attacks on May 28, 2010, most Ahmadis have been careful to keep their religious identity a secret, he says. "This has only increased our sufferings."

Saleemuddin says several religious organisations have held conferences in the city to spew hatred against Ahmadis. The largest of these is held at the Aiwan-i-Iqbal each year, he says.

Published in The Express Tribune, May 28th, 2015. 
COMMENTS (2)
Comments are moderated and generally will be posted if they are on-topic and not abusive.
For more information, please see our Comments FAQ