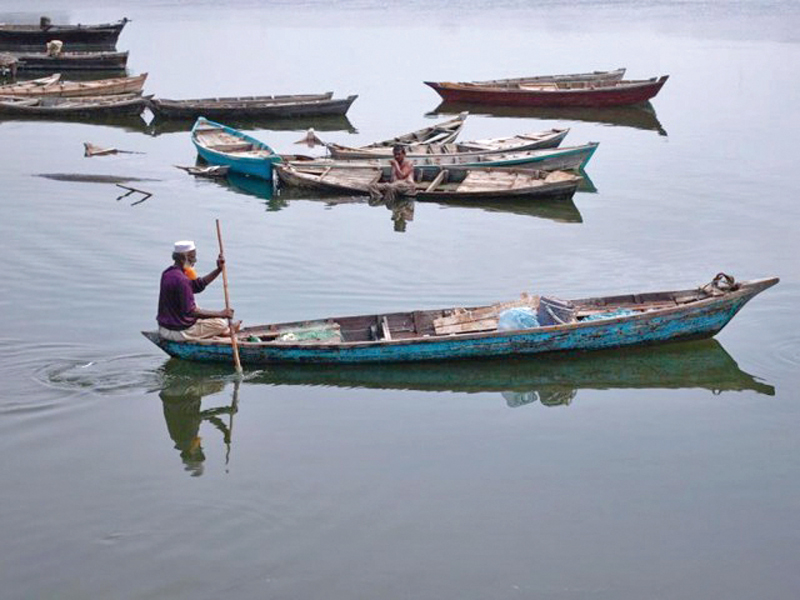 ---
Human actions, such as land encroachment, reclamation, pollution and illegal harvesting of natural resources, are threatening a precious natural habitat of Pakistan — the Karachi coastal ecosystem.

Last week, World Turtle Day was observed. Not many people in this country, however, still know that Karachi's Sandspit and Hawke's Bay are considered two of the most important nesting sites for green turtles in the world.

The larger area around the turtle nesting habitat, stretching from Sandspit to Cape Monze, consists of around 20 kilometres of sandy beaches with small rocky areas and cliffs, which play host to a diverse coastal ecology.

Meanwhile, the backwaters support dense mangrove vegetation, containing a rich, complex food web of algae, juvenile fish, shrimps and crabs. Many water birds, too, are to be found in this area, especially herons, ospreys, marsh harriers and waders such as stints, sandpipers, redshanks, avocets and black-winged stilts. The creek system is also vital for shorebirds wintering and summering in Pakistan, while supporting birds such as cormorants, flamingos, ducks, gulls and terns as well.

The habitat is globally recognised for its wetland characteristics. Pakistan is a signatory to the Ramsar Convention on Wetlands and on the basis of criteria adopted in Regina, Canada, in 1987, some of the main wetland sites on the Karachi coastline, including Sandspit and Hawke's Bay, have been identified as 'Wetlands of International Importance'.

At the time of the listing, the habitat was considered a particularly good example of the region's wetlands. It also supported an appreciable range of rare, vulnerable or endangered species of plants and animals as well as over 20,000 waterfowl, and was found to be of special value as the habitat of plants and animals at a critical stage of their biological cycle.

Even in 1989, researchers considered these beaches and their adjacent creeks as one of the most threatened wetlands in the country, saying that the habitat was likely to be lost or suffer major ecological changes unless immediate remedial action was taken. While the situation has now changed for the worse, there is still much to be salvaged.

The issue of concern is that the habitat does not enjoy a protected area status, which is a serious hindrance in its sustainable preservation since it relates to regulating beach development and placing adequate environmental safeguards.

The Karachi Coastal Recreation Development Plan (1990-2000) was the first comprehensive planning document that proposed a protected area status for the threatened ecological sites along the city's coastline. Indicating that a protected status was needed because development activities were likely to have adverse effects on the habitat, the study proposed three protected areas, including the Hub River outfall and adjacent Sonari Hills, the Sandspit beach and the creek mangrove ecosystem.

Later, the Karachi Building and Town Planning Regulations, 2002, took its coastal preservation recommendations from this plan, earmarking the entire 40-mile strip of the Karachi coastline from the Hub River Estuary to Gharo Creek as an interim control area for recreation and tourism.

There is now an urgent need to revisit these documents and accord this habitat a protected status, thereby beginning the critically required process of protecting and sustainably managing Karachi's coastal resources.

To begin with, we need a national protected area status, which could be that of a wildlife sanctuary, and then seek a globally recognised status. Even now, if we show the required political will, a strong case can still be argued for the designation of the Karachi beach habitat as a Ramsar site.

Farhan Anwar is an urban planner and runs a non-profit organisation based in Karachi city focusing on urban sustainability issues

Published in The Express Tribune, May 25th, 2015. 
COMMENTS
Comments are moderated and generally will be posted if they are on-topic and not abusive.
For more information, please see our Comments FAQ