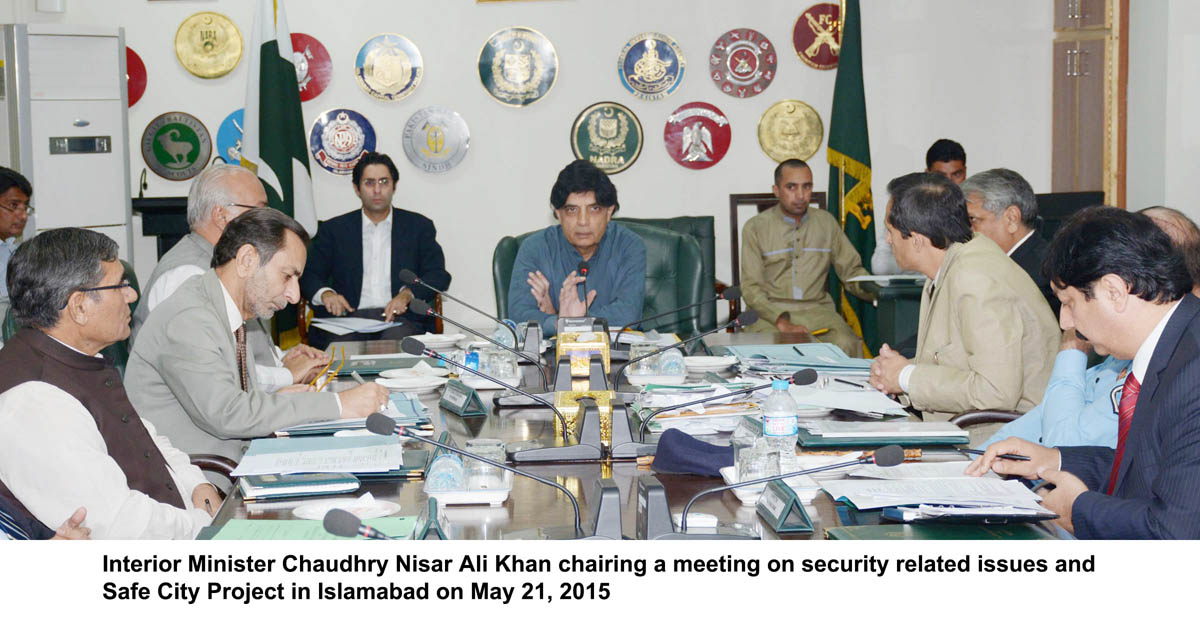 ---
ISLAMABAD: Interior Minister Chaudhry Nisar on Thursday asked the provincial home departments to conduct a security audit for minority communities and prepare a special security plan for including Hindus, Christians, Sikhs, Ismailis and Bohras within a week.

"Protect our minorities. It should be your utmost priority," Nisar directed provincial police chiefs on Thursday. "Protect minorities' worship places and enhance police patrolling of religious places of non-Muslims as well."

The interior minister asked provinces to better train and equip law enforcement agencies, as well as to conduct a security audit of minority communities by establishing new intelligence surveillance systems for their safety.

"Special surveillance of minorities' worship places should be carried out by intelligence agencies," Nisar directed the Intelligence Bureau as he sought weekly briefings by the provincial home departments.

Gun licences for minority communities?

Having failed to adequately address security concerns of minority communities, Nisar hinted that minority communities could be issued arms licences as well.

"We want to introduce new mechanism for arms licences. It will be for sure a new regime for controlling arms in the country," Nisar said pointing out that currently there was a ban on issuance of arms licences since a new policy was under the works at the federal level.

"We are in a warlike situation and can't afford free-flow of arms."

Names on ECL

Nisar also directed the intelligence agencies departments and organisations concerned to justify their stance on putting names of thousands of people on the Exit Control List (ECL).

Currently, more than 7, 500 people have been put on the ECL. Some have been on the list since 1996.

The government is in a process of reviewing laws under which someone's name is placed on the ECL.

Director General Immigration and Passports Usman Bajwa told the meeting that about 12,000 passports of various people had been blacklisted.

"There should be no amnesty for these people," responded the interior minister.

Exchange of Offenders Agreement

Nisar said thousands of Pakistani nationals were in jails of various countries, and directed his subordinates to prepare recommendations where elderly, innocent and others could be considered for a return under the agreement.

"Do we have space to accommodate these prisoners in our jails."

Secretary Interior Shahid Khan told some parameters could be revised to bring those prisoners back to the country on humanitarian basis.

"Many people are innocents but languishing in foreign jails," Khan said.

About issues of three diplomats accused to be involved in illegally sending prisoners from Thailand to Pakistan, the Federal Investigation Agency officials informed the meeting that they had refused to appear before the investigators.

"We've summoned them [diplomats] thrice but they failed to appear," said FIA director Inam Ghani.

Now, the FIA will issue another final notice to them for recording their statement, he said, adding if they fail to respond then their passports would be blacklisted.

Following these reports, the interior minister put the Exchange of Offenders agreement on hold.
COMMENTS
Comments are moderated and generally will be posted if they are on-topic and not abusive.
For more information, please see our Comments FAQ