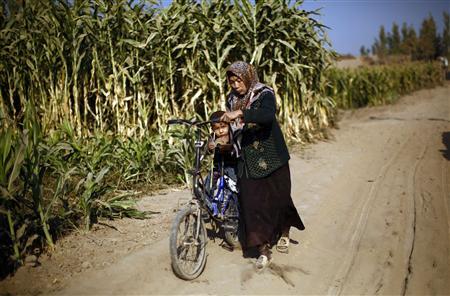 ---
GILGIT:



For over six decades, Uighur families in Gilgit-Baltistan have grappled with an identity crisis for which there appears to be no closure in sight.




Running from possible persecution during the Cultural Revolution in 1949 in China, over a 100 families fled from Xinjiang and settled in various parts of Pakistan, including G-B. The exodus continued till 1980 and kept presenting fresh challenges for the migrants and their host communities.

Since they had left behind their homes and relatives, Uighur families tried to carve a space for themselves in their new surroundings. With time, they were able to call the region home.

The migrants with their colourful traditional dresses were known as Kashgaris, from Kashgar, the administrative centre of Xinjiang. Gradually they made their way into hearts of locals the best way they knew – through their stomachs. Manta (dumplings) and laghman (noodles with lamb stew) have now become a staple of the region's diet.

The language of separation

Over the years, even though they have shed their old skin, started wearing shalwar kameez and adopted local culture, many members of the Uighur community feel they are not treated with dignity and respect.

"We consider ourselves Pakistanis and residents of Gilgit," Maqsood Jan, a member of the Uighur community who owns a small tea establishment in Gilgit tells The Express Tribune. "But that's not how we are treated in return. Even though we have lived here for over sixty years, we are neither considered 'Gilgitis' nor Chinese."

According to Jan, locals view them as outsiders and when they address them, it comes across as derogatory.

"Whenever locals want to call out to a member of our community, they don't take his or her name or even surname," Jan says. "They simply say, 'O Kashgari'. They don't respect us."

In the middle of nowhere

The federal government had initially taken steps to provide the Uighurs with land in Pari, which was then an uninhabited area 45 kilometres away from Gilgit. However, a large number of families sold these properties at throwaway prices and relocated to Gilgit.

"The government had made a sincere attempt to provide us with a home," said Musa Khan, another Uighur trader. "But we couldn't live there as there were no schools or hospitals in the area. We didn't even have access to drinking water."

Living in Pari was not an option but the alternative was not easy either.

In Gilgit, property was expensive and beyond their means. Many families settled in slums and concentrated on scraping a living together rather than dreaming of a quality life with education and upward social mobility. For years, members of Uighur families failed to get government jobs or improve the quality of their lives.

Sectarian considerations

As the struggle for equality became part and parcel of their daily grind, another crisis loomed large and, once again, changed their destiny. The region fell victim to sectarian influences in 2005 which triggered a spate of violence that altered the social fabric. A prominent Shia leader was killed then, sparking unrest.

Many Uighur families—who are mostly Sunni—felt insecure living in G-B after the incident and as many as 20 families relocated in Rawalpindi.

"We are peace-loving people and it was difficult for us to live in Gilgit," a member of a family which had moved to Rawalpindi told The Express Tribune over the telephone.

Cultural revolution

Leaving China in the 80s ironically trigged another cultural revolution – their move dealt a critical blow to their language and culture from which the Uighurs have not recovered. Members of the community married outside the community, speak Urdu and Shina instead of Turkic, and seldom see it fit to take their traditional dresses out of their trunks.

"The biggest casualty of our displacement is the loss of our culture and language," says General Secretary of the G-B Chinese Overseas Association (G-BCOA) Abdul Rahman Bukhari, who also belongs to the community. "We all are worried about it but don't have skills and resources to preserve it."

According to Bukhari, little has been done to salvage their culture even though several regional organisations are working towards the preservation of their traditions and Turkic. "It's a pity that we are still treated as aliens," he said.

Reintegration

Over the years, China has sought to restore ties with the Uighur families who left the country.

"The Chinese government has provided us with funds for development and education," says Bukhari. "They even sponsored trips taken by members of the community to China to learn about their roots."

However, according to Bukhari, these funds are often misappropriated and seldom reach their intended recipients.

"I know many families who haven't received any financial support as yet," he added.

Published in The Express Tribune, May 21st, 2015.