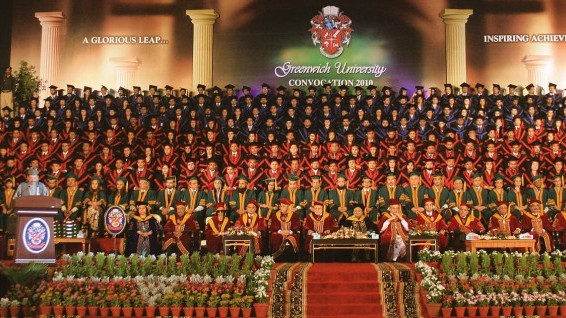 ---
KARACHI: Shahnawaz Bhawani and Sania Bhawani clearly stood out in their velvet robes of blue and red as the unique father and daughter pair to graduate together from Greenwich University at its convocation 2010 held Saturday evening on campus.

They were among the 350 students graduating with MBAs, Masters of Arts in English, Bachelors of Science and Associates of Science in Business Administration. Eight achievers received gold medals from faculty and the guests of honor, including Hameed Haroon. There is tough competition in the job market among students from top universities in the country such as the Lahore University of Management Sciences, Institute of Business Administration, Institute of Business Management and the Shaheed Zulfikar Ali Bhutto Institute of Science and Technology and the University of Karachi. Nonetheless, the students at Greenwich seemed confident.

Yasin Sherwani, who received a gold medal for a Bachelors in Finance, said for example, that he had gained a tremendous amount. "This place gave me the motivation, courage and capability to start my own business and now at the age of 22 years I am the CEO of a private finance firm," he told The Express Tribune. Mr and Mrs Danial said that while they were happy for their child, they were a bit anxious too. "I do feel that there will be tough competition in the job market for a good job, given the awareness among students that they must have a good university degree," said Mr Danial.

"But I am confident that Greenwich students will also not go unnoticed as they have given them a lot of confidence and drive." It was a splendid ceremony in a grand atmosphere with beaming parents and proud students who marched to the stage in a high-profile reception to honour their educational accomplishments. Presiding over the event, Seema Mughal, the Vice Chancellor of the university, said to her audience that Greenwich students have risen to top positions in their respective fields. "Fouad Hussain, the General Manager of the Advertising firm Mindshare, is one of our many distinguished students," she said.

Among other well-regarded entities of the corporate world from Greenwich are Jerjes Seja, the Chief Operating Officer of ARY Digital Network and Zahir Durrani, the Chief Financial Officer at IBM. Greenwich University offers undergraduate, graduate and MPhil and PhD degrees in the faculties of Arts, Islamic learning, Management Sciences, Science and Social Sciences.