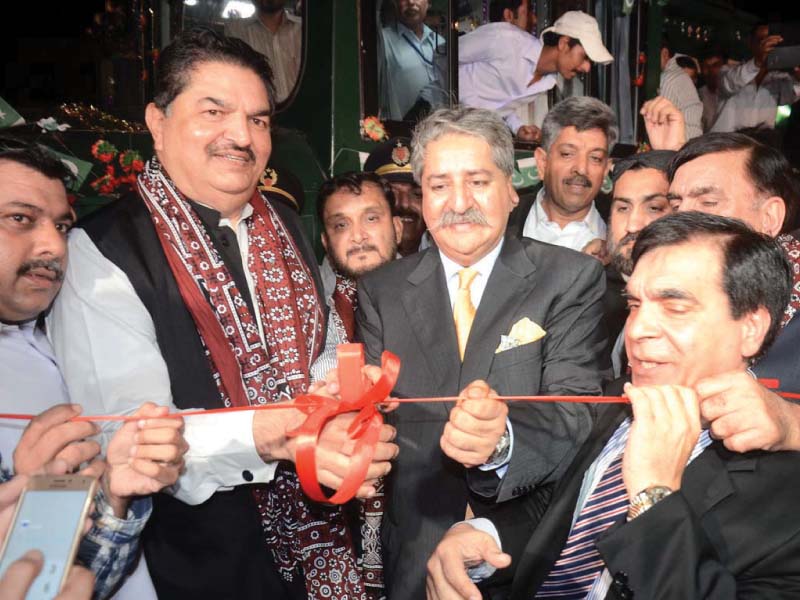 ---
KARACHI: It was neither an all parties' conference nor was it a reception ceremony for any VIP guest where politicians from different parties would usually be in attendance. It was a simple inauguration ceremony for the Green Line Railway service, which was scheduled to begin the second leg of its maiden journey from Karachi Cantt Railway Station towards Margalla Hills railway station at 9:30 pm sharp on Saturday.

The voice of Nusrat Fateh Ali Khan singing the national anthem filled the station while PTI's Dr Arif Alvi, MQM's Asif Hasnain, PML (N)'s Saleem Zia and ANP's Shahi Syed shared the same stage, wearing smiles on their faces as they warmly shook each other's hands and discussed Pakistan Railways performance.

At exactly 9:30 pm, the siren of the rail buzzed and happiness emerged on the faces of all passengers. Nusrat Fateh Ali Khan's voice suddenly reached a high pitch and the spirit of nationalism also reached a high level.  Everyone forgot their differences just for a moment and prayed for the safe journey of green line railway service.

During the inauguration, the chairman of the standing committee for railway, Syed Naveen Qamar said that it was a monumental task for the governments to bring the Pakistan railway to this position. "We made it possible to start this type of rail service" he said.

"The energetic personality of [railways minister] Khawaja Saad Rafiq has made this possible as a state-of-the-art rail has started its journey," he said.

He added that for the first time WIFI services have been introduced along with LCD facilities at very nominal fares.

Commenting on how bad the situation had been, PML (N) Saleem Zia said that during 2011-12 the railway was in a very bad condition as freight trains were totally halted and most people were reluctant to say how it would continue due to heavy losses, being faced by Pakistan Railways.

"At that time, the rail authorities had no money for salaries, pensions or for the smooth running of the system" he said. However, a turnaround was seen in the wake of the struggle of the railways minister. And now Pakistan Railways has started its journey again just like green line service, he commented.

Published in The Express Tribune, May 17th, 2015.