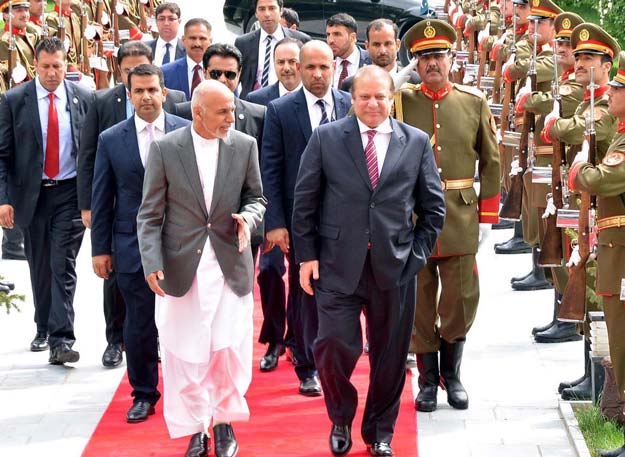 ---
ISLAMABAD: Prime Minister Nawaz Sharif's visit to Kabul this week was another step in a series of efforts to bridge the trust deficit between the two neighbouring countries. In an unprecedented move, he censured the Afghan Taliban and termed their violence "terrorism".

To show solidarity with the Afghan government, the prime minister brought up the Taliban and their spring offensive codenamed Azm (resolve). "Continuation of such an offensive and attacks will be construed as terrorist acts and we condemn such attacks in the strongest words," Sharif said while speaking at a joint press conference with President Ashraf Ghani.

Separately, Sharif said in a meeting with Afghan Chief Executive Dr Abdullah Abdullah that Pakistan has categorically conveyed its stance on the peace process to the Taliban leadership.

"The Taliban and other terrorist groups also understand what we have told them. They do not have any other option but to shun violence and join the peace process," Dr Abdullah's office quoted Nawaz Sharif as saying.

Pakistan's top leaders and the foreign ministry have never before named the Taliban in their routine statements and this was the first time the country's prime minister adopted such a tough stance against Afghan militants. However, wary of years of mistrust, the Afghans are not yet impressed.

Some Afghans think Pakistani leaders have not yet acted on their promises to bring the Taliban to the negotiation table. But others view the prime minister's anti-Taliban approach as a positive change in Pakistan's policies.

The Taliban have not yet responded to the prime minister's remarks. However, they seem to have practically rejected the call. Within hours of the premier's statement, Taliban bombers launched a deadly attack on a guest house late Wednesday, killing 12 people, including two Pakistani nationals, an American and four Indians. The UN mission in Afghanistan said all those killed were civilians.

The division

Afghans are deeply divided over Pakistan's role in the peace process as a vast majority argues it is the fundamental responsibility of Afghanistan's own leaders to chalk out a strategy on how to encourage armed opponents to join the intra-Afghan dialogue. They believe Pakistan and other neighbouring countries or major players can facilitate any peace process after the Kabul administration takes an initiative for reconciliation.

Nazar Mutmaeen, who regularly writes for Afghan and international media on the Taliban and security issues, says Afghan leaders are mistaken if they think Pakistan yields control over the Taliban. "If Pakistan controlled the Afghan Taliban, they would agree to hold direct talks with the Afghan government, stop fighting and would not start their spring offensive," Mutmaeen told The Express Tribune on Friday.

When asked how Pakistan could win the trust of Afghans, he said Islamabad should try to develop a consensus with Iran, China, US and the UN along with other important players to mediate between the Afghan government and Taliban.

Afghan media and political analysts, on the other hand, remain sceptical of the prime minister's May 12 visit to Kabul.

The head of Afghanistan Regional Studies Centre Abdul Ghafoor Lewal said Pakistan will have to take practical steps as mere promises will not make a difference. "If Pakistan does not deliver on its pledges now, Afghanistan's conflict is likely to reach Pakistan in the near future," Lewal told Afghanistan state television in a discussion on Nawaz Sharif's visit.

"I will categorically say that insecurity in Afghanistan will have a direct impact on Pakistan and such a situation could pose serious threats to the Chinese economic projects in Pakistan," Lewal added.

The independent Hasht-e Sobh newspaper said in an editorial that Prime Minister Nawaz Sharif may have realised that Pakistan's earlier policies about Afghanistan had not been in the interests of the former.

"Pakistani prime minister's remarks were unusual this time. It was a bit attention-grabbing that Nawaz Sharif has mentioned the name of the Afghan Taliban and denounced their actions. It may be the first time that a senior Pakistani leader has publicly condemned the Taliban," the daily said in its editorial on Wednesday.

The private Dari-language Mandegar has urged the government to share details of the discussions with Pakistani leaders as it believes Afghanistan's people have the right to know the "objectives of these visits."

Similarly, state-owned Pashto-language Hewad Daily wants "Pakistan's honest cooperation".

"We welcome these visits but the promises by Pakistan should be honoured. The Afghan government on its part is committed to cooperation and will never intervene in Pakistan's affairs, but would expect the same from Pakistan," the daily said in its editorial.

Published in The Express Tribune, May 16th, 2015.
COMMENTS
Comments are moderated and generally will be posted if they are on-topic and not abusive.
For more information, please see our Comments FAQ