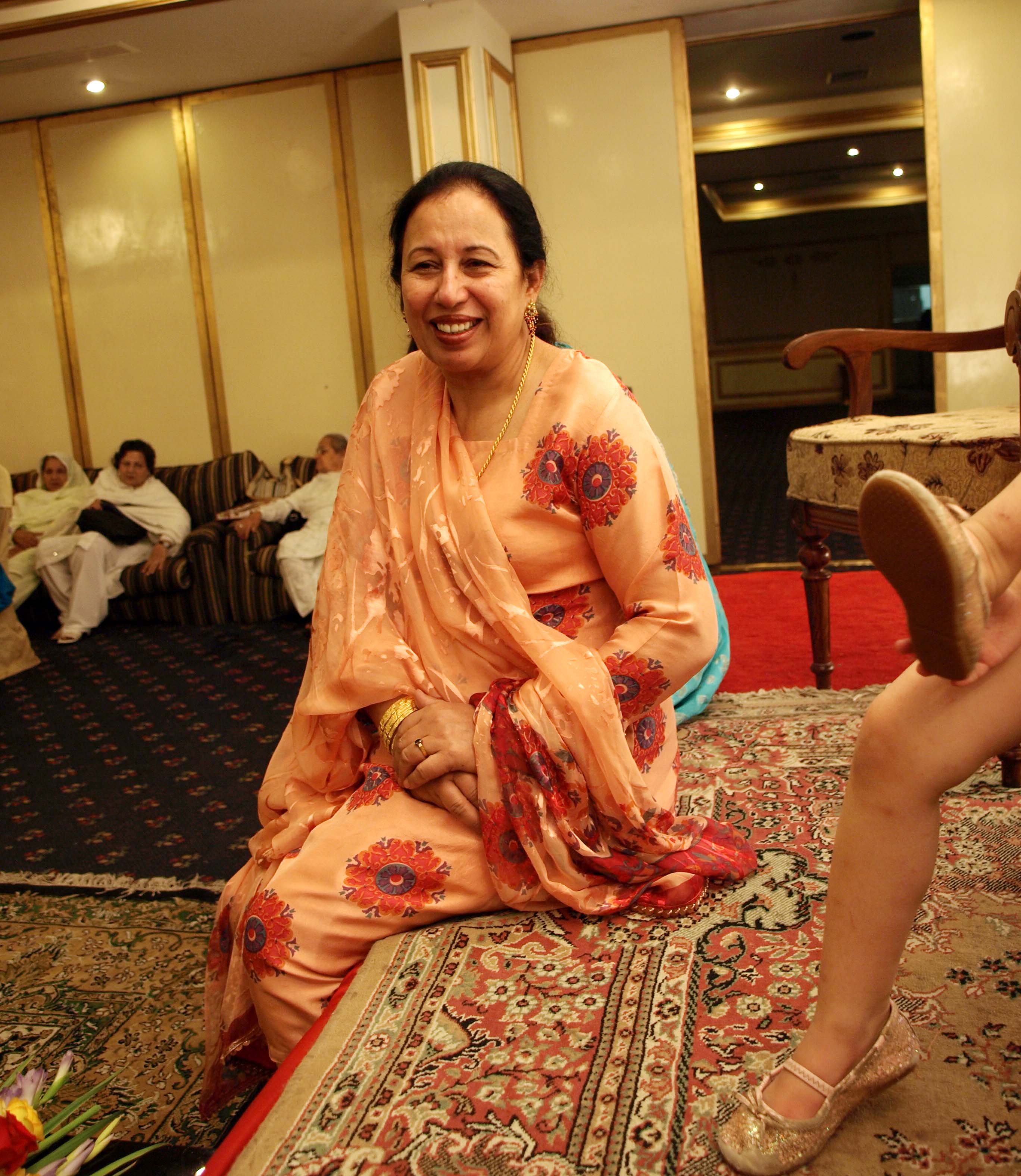 ---
PESHAWAR/ KARACHI: The bond between parent and child is considered more powerful than any other relationship to be later forged in life.  Even the most brittle parent-child bond is scaffolded by something almost innate. Some see it as paternal instinct, others call it the drive to replicate the gene pool, to ensure continuity.

When over 150 families lost a child, a sibling or a parent in the Army Public School attack, every parent in the country felt that grief which jabs a person deep in the gut, the grief which is so much more than empathy as it comes with an overwhelming fear – that could be my child next. Four months and 24 days later, life has moved on for most consumers of the 24/7 news cycle. This Mother's Day will honour the woman who was a mother to her three children and then some hundreds of students till she died on December 16, 2014.

This interview was conducted in two parts, in Peshawar and over the telephone.

Inside the Qazi house

January 17, 2015 and it's just over a month since the brutal attack. Ahmad Qazi, 25, sits in the foyer, a small but meticulous sitting room in shades of beige. There is a quiet calm about him, as if he knows these measured movements will help quell the turmoil. He is expecting the questions as he has already been through at least one other interview.




Tahira and Colonel (retd) Qazi

He dives right into the life of Tahira. And as he talks about her earlier years, it is clear from the onset that Tahira was an understated powerhouse of a woman – a driven educationist, a mother, a friend, a wife, a caregiver and someone who managed the house impeccably.

The woman who had it all

With Ahmad, her daughter Arifa and her son Imran, and a husband who is a serviceman, Tahira could have opted for the army life many are known to enjoy. Staying at home could have been the easy way out, especially as Imran was oxygen deprived at birth and suffered brain damage. But Tahira, as her daughter later described to The Express Tribune over the telephone, was "an independent and practical woman" with an infinite amount of patience. She was after all the principal of an all boys school and college.




Tahira (second from the left) during college days.

Sitting in the living room, the symmetrical décor of which spoke volumes of life in the armed forces, Ahmad said she would "teach wherever baba was stationed; that's how her career started".

Tahira started working as early as the 70s. Her son struggles with details of her early career as Ahmad was born two decades after she started teaching. "I don't know so much as we never got a chance to discuss it."

However, he said, she had been teaching at APS for 20 years. "She started as an English teacher before she became an associate professor and later the vice principal." He added, "She even became a regional coordinator but chose not to remain in that role as she wanted to give Imran more time."

Later Arifa, 33, who now lives and works in Lahore, shared her mother left her career midway for Imran, who is 31 years old; "she chose to be an at-home mum but returned to teaching in the 80s."

Tahira took over as principal of APS in 2006, and according to both Ahmad and Arifa, her school was her second home. "It would be incorrect to say her attitude was different with us and different with them; she used to care for them like they were her own children," said Ahmad. "The day the tragedy happened, she did not call home; she took care of her students."

As people came in to offer condolences, Ahmad said, "We have been hearing a lot of stories and have managed to piece together one conclusion – she fought bravely and saved lives."




Ahmad Qazi with his mother on Eid in 2008

Other people who gave interviews to The Express Tribune about the horrors which unfolded that day also match this account: Tahira Qazi chose to stay back in the school which was under attack and tried to save her students.

"She was there evacuating students who were stuck inside. She even confronted the terrorists and told them to take her phone and whatever else they wanted 'but leave the kids alone'." Her son shares they (the attackers) asked her for the children one more time but she refused. "She was heard telling the men she cannot handover the children and asked them to stop the massacre…those who heard this exchange then heard nothing for a moment and then a blast. She was in the administration block."

Even as Ahmad narrated his mother's last minutes, he spoke as if he knew nothing could have changed the tragic ending. "She was evacuated but she went back in."

When asked if he was angry at her for not leaving for safety, Ahmad smiled, "If she was destined to go that day, she would have gone no matter where she was. She chose a better death and I am proud of her. If she was meant to, she could have survived a hail of bullets – after all 26 people out of 29 survived in the administration block."




(L-to-R) Ahmad Qazi, Colonel (retd) Qazi, Arifa, Tahira and Imran

In any case, Tahira was not the one to leave her children behind. Arifa later told The Express Tribune over the telephone from Lahore, "She would usually not leave school till the last child had not gone home. She was worried about kidnappings because such things happen in Peshawar."

The principal had staff assigned to keep check on students, to see if they were going home in the car which would normally come to pick them up. Ahmad had shared, "If anyone was left behind, she would wait till their parents came to pick them up."

Talking about Tahira meant for her children talking about her work as much as her life at home. "She was so close to her students; one of her former students came over for condolences and was telling us how he flunked his pre-board Urdu exam and how my mother petitioned on his behalf and then personally tutored him, asking other teachers to do the same to make sure he got good grades," recalled her son from the days immediately after the funeral.

Her daughter talked of her quietly fundraising on the side for students who needed the extra help to afford the fees or books. "She would just put the money together without making a big fuss about it, I think she felt talking about it would take away from the good that she intended to do," shared Arifa.

Tahira's commitment to the job was not an extension of some habit; it was part of her core, values which permeated all tangents of her life.

"She was everywhere, she made sure the house was in order even though she was a working woman, and she never ever let on if she was tired," said Ahmad. "I would come home from college or work and even then she never spoke about her problems." Now Ahmad and Arifa are not sure if anyone can ever step in and fill her shoes.

It wasn't as if Tahira was cold or reserved with her children. She also wasn't the typical principal disciplinarian but was "the backbone of the family". As Arifa puts it, "In other families, responsibilities are divided between family members; with us it was all mum's responsibility." Like so many women in Pakistan, Tahira would put her needs on the backburner, something her daughter says they would often argue about.




Arifa with her parents at her mehendi in 2011

The little time Tahira found was in the evening, and with her neatly distributed life, she had another routine built into it, a busy tea time. Family and friends would drop by, recalled Arifa and we would sit at the table for ages, eating and talking. Her handful of friends were important to her and she was happy with that, added the daughter.

"The day it happened, I kept thinking everything would be okay by tea time, that we would all soon be sitting around the table, discussing the day," said Arifa as her voice trailed off.

Tahira the mother

The night before the APS attack, Ahmad said, "She was sitting with me and I was annoying her with my hugs, now I wonder if that was me saying goodbye unknowingly."

He added, "She was my best friend."

Imran who was still accepting his mother's loss was also very strong and brave, said Ahmad. Only time will tell how he will deal with it in the future.

Arifa who is nine years Ahmad's senior had a different relationship with their mother. While Ahmad was nurtured and nudged in the right direction, kept a close eye on and put on a guided track to success, Arifa was the first child and a wild one at that.




(L-to-R) Tahira, her husband with Imran and Arifa in Quetta

But, she told The Express Tribune, even though she was daddy's little girl, it was her mother who became the driving force in her life. "He pampered me but he was away a lot, so I spent most of my childhood with my mum. Imran who has special needs came around later – in some ways I felt like I was the only child."

She added, "But because she wasn't the hugging and kissing type—instead she did things for us—I think I misunderstood bibi, as a child." When asked about the nickname, Arifa said, "All of us from my mum's side call our mothers bibi – one day my daughter will also call me bibi."

She recalled days when she would come home late, hang out with boys and shared Tahira was very patient. "She would always give me advice, not a shouting. That was who she was, she would never let us see anything negative – I never heard her complain, I never even saw her cry."

The 33-year-old spoke at length of her mother's demanding routine which started at 5am and ended often after midnight. As their father has mobility issues, Tahira had to not only take care of him and Imran but also be proactive about employment. "Whatever I am today, independent or brave, it's because my mother pushed me; she would said, 'Jitna seekh saktie ho seekho'." Which translates to always keep on learning.

"Even when there was a financial crisis at home, it would never reach us children, we only knew we had to focus on studying – which I didn't do initially and which would be the one thing my mum would tweak my ears over!"

All Tahira wanted were bright futures for Ahmad and Arifa (and her students) and comfort for Imran.




Arifa with her parents in Lahore in Jan 2014.

As the only daughter, Arifa pushed her boundaries and Tahira gladly pushed back, just enough to allow Arifa to find some direction. Eventually, Arifa moved to Islamabad to do her MBA and would drive back on her own to surprise Tahira. Arifa said that would be a big thrill for her mother.

"Since I was 19 or so, when I left for my master's, she and I spoke every night, I just had to tell her about my day. She was my habit, she was my best friend."

Now Arifa has a seven-month daughter, Sophia. "I wanted to wait but my mother kept pushing me, telling me once I had a child, I would see how I could never live without one." Arifa added she saw how badly her mother wanted a grandchild and that convinced her to start a family.

"Now all that keeps running through my head is that my daughter will never get to know my mother…aik bohat bari khuwaish reh gai." Her brother had also shared how his mother was so excited about watching Sophia grow up, "these are the things where I'll miss her."

As grief slowly creates permanent resting space in the Qazi family, Arifa says there are many memories which push to the fore. "I can never forget how she would hug me twice and kiss me on both cheeks when I would show up in Peshawar. There were so many small things and now nothing will ever be the same," said Arifa.

"She was my best friend."

From Mardan to Peshawar

According to Ahmad, Tahira was born in 1951 in Mardan into a family which made a comfortable living. With five daughters and two sons, her parents made education a priority. Three of the sisters ended up becoming doctors, two educationists, one brother got enlisted and one became a banker, said Ahmad.

"She was the middle child. They were all very close; and none of them ever took any major decisions without consulting each other."

Tahira completed her early schooling in Mardan before moving to Landi Arbab Yarhaj in the provincial capital. She completed her master's in English from the University of Peshawar.

She started teaching as early as the 70s at a convent in Mardan before she left the district. And her career followed in the footsteps of her husband's postings and transfers. Ahmad said she taught in whichever city his father was posted at, whether it was at another APS or any other college.

"She married baba in the 80s; they were first cousins," said Ahmad. While his father was not there during the interview, Arifa later shared they had a great relationship. Tahira and her husband were best friends, always laughing and joking, "Even when they fought, they would pull each other's leg over the matter." Now the house is so empty, said Arifa, who tries to visit Peshawar every month.

May was the month Tahira was all set to retire and she wasn't the only one looking forward to it. Ahmad and Arifa both had plans for their mother who would soon have more free time. "We are not very affluent but now, with my income, she could've sit back and enjoyed the fruits of her hard work – my career has just started and I wanted her to be there."

Arifa had also made post-retirement plans with Tahira, "We were supposed to spend time together; she was going to come to Lahore and we were going to have fun…Nothing will be the same anymore."
COMMENTS (13)
Comments are moderated and generally will be posted if they are on-topic and not abusive.
For more information, please see our Comments FAQ