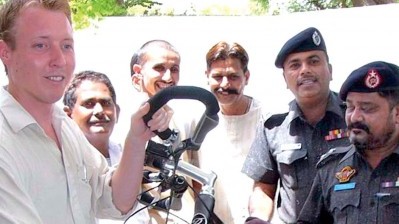 ---
HYDERABAD: When visiting Dutch cyclist Koen Roovers emerged from Civil hospital on Friday to find that his precious bicycle had been stolen, he knew things would never be the same again.

He could not have been more right. Within 24 hours, however, Roovers found his bike, much to his and everyone else's surprise, on Saturday, but it was not exactly how he left it.

His professional racing bicycle now has a flashy saddle, tawdry disco lights and a loud horn that goes "blip, blip", stopping all traffic. For Koen, his bike is a symbol of freedom, an essential part of his travelling dream. For the thief who sold the bike within 24 hours, it was worth only Rs1,200. Roovers, being an optimist, says he will not change anything about his transformed bike, as it is a memory of his stay in Hyderabad. He will ride this bike "just as it is" on his way to China, which is the last stop of his nine-leg tour. Roovers arrived in Hyderabad on April 1.

His friend had recommended the city, informing him that a school needed his help. Koen got in touch with Ali and Shahana who run the special school, Ilm Jo Sojhra. He has been living with them for the last three weeks and is teaching the school teachers English, Geography and Mathematics in the afternoons. "This has been my longest stay [in one place] in nine months, which is when I started my tour," Koen explains, "I was tired and not just physically.

So I've stayed back and I'm on my first break from cycling in years." Koen wanted to give his trip meaning. "I didn't want to be just a passer-by, but I wanted to contribute." But why Hyderabad? Koen says, "It reminds me of home." According to him, settling in the city has been extremely easy. Shahana and Ali have many visitors from villages, especially from Haji Pir Baksh Rind, who need help. And the couple and Koen readily help them. Six-year-old Shazia is also from Haji Pir Baksh Rind and is studying at the school.

She is partially paralysed. Koen takes her for physiotherapy to the Civil hospital during the afternoons. On Friday, according to routine, he parked his bike right at the entrance between a row of motorcycles. "I locked my bike, but I made the mistake of not locking it to something. The lock was pretty strong though," says Koen. When he and Shazia came out, Koen saw the empty space. "It was like a set of teeth with one tooth missing!" "Oye, it's gone!" cried Shazia. All Koen could feel was his heartbeat in his temples. He rushed to the hospital security guard who did not know anything. He then registered an FIR but he was convinced it was gone forever.

"I thought I would never find it. It was like looking for a needle in a haystack." After receiving the complaint, DPO Javed Alam Odho cordoned off the routes to the district. A team headed by SHO Makki Shah Hassan Ali Abdi and SIO Makki Shah Haji Javed found the bicycle at a secondhand market in Gao Shaala, after an informant tipped them off. Koen then received a call from Odho on Friday. "I don't like to be attached to things, but yes, I was pretty much shattered when I lost my bike," he says. Koen reached the DPO's residence to get his bike back, where he found the DPO holding a press conference. "I can't believe my bicycle's recovery is such a big event," he laughs.
COMMENTS (7)
Comments are moderated and generally will be posted if they are on-topic and not abusive.
For more information, please see our Comments FAQ