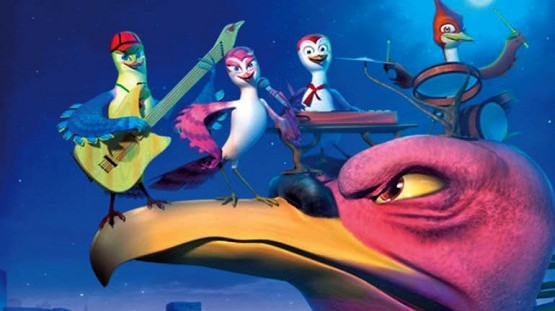 ---
KARACHI: Animated films in India have a tendency to bomb at the box office, but filmmakers continue to try and make headway into this profitable industry. Hollywood studio Warner Bros and Indian filmmaker Jyotin Goel have joined hands to make an animated feature called Bird Idol. Bird Idol features the writing of Goel's son Dev and released in India this week. Talking about his venture, Goel told India FM, "Bird Idol is a laugh-out-loud riot, combining international quality animation with pure, unadulterated comedy.

It creates a fantasy world where the birds of Mumbai are as human as the people who inhabit it. They go to school, watch TV, go out on dates and yes, even watch reality shows, especially the musical show known for making stars overnight - Bird Idol." The story revolves around a bird called Hummi, who is unhappy with bird music and greatly impressed by the music humans make. He introduces human music to bird music by entering "Bird Idol" and unknowingly lands himself and his parents in trouble. Goel hoped he could bring in the crowds, "We are aiming at the family audience as whole because you know that animated movies have a wide spectrum worldwide and this movie will not only be loved by children but their family members as well.

It is a heartwarming beautiful story which will melt their hearts." Bollywood has been experimenting with animation for a while. However, as long as the technology is used in clips within the story line like Hum Tum, the flicks have done good business but their success can hardly be credited to the animation. Whenever Indian filmmakers have tried fully animated movies, they have flopped, such as 2008's Roadside Romeo and Jumbo. The worldwide animation industry has shown enormous growth in the last few years and animated films are also getting their share of recognition at award ceremonies - Up was the second animated film (after 1994's Beauty and the Beast) to be nominated for an Academy Award for Best Film. The Indian film industry is determined to be involved, and Rajesh Turakhia, the CEO of Maya Entertainment Ltd, sees potential. He said, "Animation is a universal language. But in India it is still a nascent industry. We cannot afford to be complacent and need to constantly upgrade our knowledge to international levels."

This summer, an animated version of Kuch Kuch Hota Hai is being released. The animated feature, Koochie Koochie Hota Hai, marks the 12-year anniversary of the 1998 hit and will have canines as the lead characters. It is directed by Tarun Mansukhani (who made Dostana) and will have the original lead actors (Shah Rukh Khan, Kajol and Rani Mukherjee) voicing their characters. Other actors who have also lent their voices to the film are Sanjay Dutt, Simi Garewal, Riteish Deshmukh, Anupam Kher and Uday Chopra. The move by Warner Bros is interesting, particularly in light of the fact that Hollywood studios were looking at scaling back their Indian ventures. Reuters reported in March that studios like Sony Pictures had abandoned plans for producing Indian films, while Fox was going to stick to distribution deals instead.
COMMENTS (1)
Comments are moderated and generally will be posted if they are on-topic and not abusive.
For more information, please see our Comments FAQ