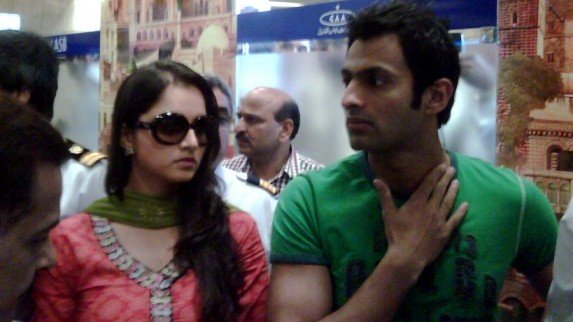 ---
LAHORE:
Sania Mirza's family members have reached Lahore to participate in the reception ceremonies of the newly wedded couple.
Shoaib's younger brother recieved Mirza's family at the Lahore airport. Talking to the media on the occasion, Imran Mirza said that he was very happy to come to Pakistan. Sania's sister Anum Mirza was also accompanying her father.
Meanwhile, Shoaib Malik looked angry over the presence of media in the lobby of the hotel where the couple is staying. Shoaib Malik asked the administration to eject media persons from the premises, else he would be moving to another hotel with his wife.
The first of the two reception ceremonies will be held in Sialkot on Sunday, while the seond will be held in Lahore on April 27.
COMMENTS (1)
Comments are moderated and generally will be posted if they are on-topic and not abusive.
For more information, please see our Comments FAQ