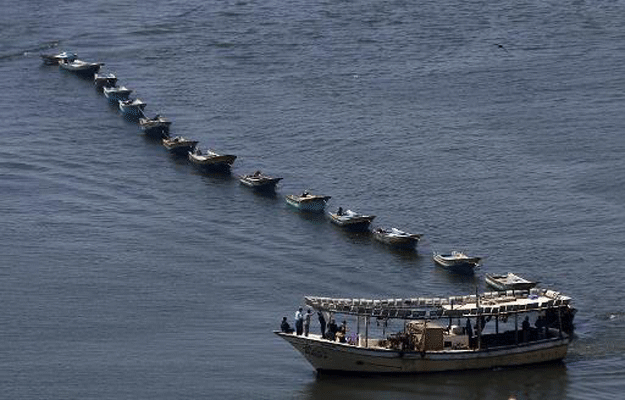 ---
Israel has returned 15 fishing boats it seized in recent years off the Gaza Strip, the army said, months after it fought a devastating conflict in the blockaded coastal territory.

Palestinian fishermen said it was the first time Israel had given vessels back, and demanded the return of dozens more.

"The naval branch (navy) returned to Gaza 15 fishing boats which deviated from the Strip's permitted fishing zone and were seized over the years," an Israel Defence Forces statement said late Wednesday.

The tiny vessels were dragged back to shore by a boat from the Gaza fishermen's union, an AFP photographer said.

Israel , which has imposed an eight-year blockade on Gaza, bans fishing beyond six nautical miles off the coast, and regularly fires at boats that exceed that limit.

Fishermen say they are often fired upon before they reach the edge of the permitted zone.

Fishing union chief Nizar Ayyash told AFP the return of 15 boats was welcome but demanded that Israel hand back dozens more vessels still in its possession.

"It is true this is the first time Israel has returned fishing boats... but its forces fire at fishermen before they've even exceeded the imposed limit, especially off southern Gaza," he said.

"There are still 60 boats held by the Israeli navy, and we demand Israel return them," he added.

Last month, Israeli forces shot dead a fisherman and arrested two others, according to Gaza medics.

The deadly incident came as tension mounts between rival political factions in the tiny enclave, where Israel and Hamas fought a 50-day war in July-August that killed 2,200 Palestinians and 73 on the Israeli side.

Around 4,000 fishermen work in Gaza, more than half of whom live below the poverty line.