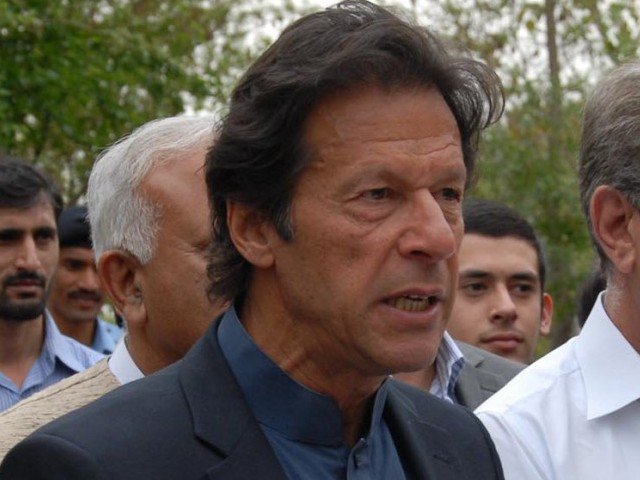 ---
KARACHI: Pakistan Tehreek-e-Insaf (PTI) chairman Imran Khan has conceded his party's defeat in the recently conducted by-elections in Karachi's NA-246 constituency, accepting Muttahida Qaumi Movement's (MQM) mandate.

"We have no objection but our candidate was not allowed canvassing…the MQM had been terrorising the people," he claimed while addressing the media in Islamabad on Wednesday.

He added that it was for the first time that "MQM contested the elections in real sense."

MQM's Kanwar Naveed had won the April 23 by-polls by a whopping margin of 70,823 votes after securing 95,644 votes. His closest competitor was PTI's Imran Ismail and Jamaat-e-Islami's Rashid Nasim who bagged 24,821 and 9,056 votes, respectively.

Read: Official results: MQM secures NA-246 with 95,644 votes

Imran said there was a sense of fear among the people Karachi because of the continuing targeted killings in the city.

He claimed that because of the volatile nature of law and order situation in the city, businessmen were left with no option but to relocate their businesses to countries such as Bangladesh and Dubai.

Rigging evidence to be presented before election commission

The PTI chairman strongly rejected claims that the party had no evidence of rigging conducted in the 2013 general elections.

"We have about 126,000 documents, which will be presented," he said. "We will present evidence of rigging in 74 constituencies before the commission on Tuesday."

Dissolution of election tribunal

PTI chairman reiterated his earlier stance that the party's internal election tribunal, headed by Justice (retd) Wajihuddin Ahmed, stood dissolved.

"We all respect Justice Wajihuddin Ahmed but the tribunal has completed its task," he maintained.

The PTI chief said his party had accepted Ahmed's verdict on holding intra-party elections again, saying that Justice Ahmed had been asked to appoint a caretaker set-up. "Our point is that it will be done once an election schedule is out," he said.

Read: Judicial commission proceedings: PML-N rebuffs PTI's rigging charges

Cantonment board elections

When asked for comments over PTI's performance in Cantonment Elections, the PTI chief said the results would provide his party an opportunity to examine whether the selection of candidates was correct and what mistakes did the party need to rectify ahead of the forthcoming local government polls.

Responding to a question about the Pak-China Economic Corridor, Imran said that "it is a golden opportunity for Pakistan to uplift its backward areas."

Talking about controversy surrounding the route, he said the shortest possible route passed through Dera Ismail Khan. He warned that if the route was changed, "it would enhance a sense of deprivation among the people of K-P and Balochistan."

When questioned about the Pakistan cricket, and affairs in Pakistan Cricket Board, Imran said a person who had cricket and knowledge of cricket could fix matters, but not Najam Sethi.