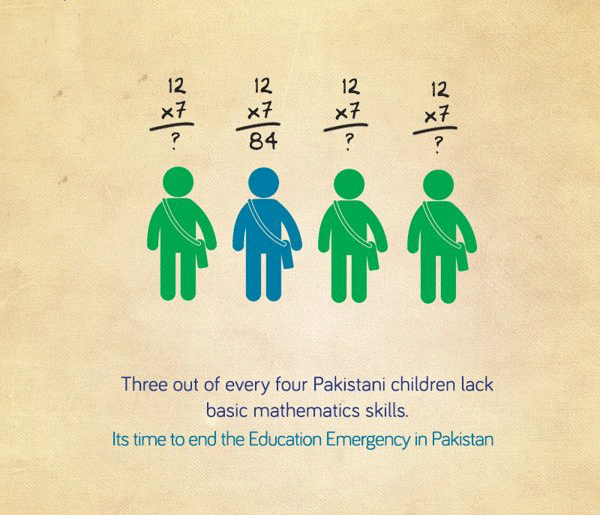 ---
PESHAWAR:



A teacher workforce of 1.5 million (Alif Ailan 2014) indisputably makes government the largest employer in a single public sector discipline. Almost eighty per cent of budgetary allocation and spending for all tiers of education is earmarked for salaries. Teacher compensation is an important input in translating teaching and learning process into better learning outcomes (Save the Children, 2011). 

However, the current expenditure in salaries is not reflected in pupils' academic achievements; ASER 2014 reports that pupils' learning outcomes remain dismal in government schools.  Clearly, in spite of this large expense, the current compensation structure does not attract, incentivise and motivate teachers sufficiently to either opt for this profession or improve performance.




On the contrary, private schools manage to produce somewhat better learning outcomes in spite of hiring less qualified teachers, with lower budgets (ASER, 2014). These schools outperform public sector schools mainly because the former as a yardstick is a low benchmark (Bari & Muzaffar, 2010). Evidently, parental preference for elite or marginally better performing low-cost private schools in Pakistan indicates that quality infljuences enrollment decision. This suggests that raising confidence in government schools may be achieved through improving quality.




The government is currently using a two-pronged approach for improving quality of education. The first is to hire better-qualified teachers for which new pre-service degree programmes have been introduced (two years Associate Degree in Education (ADE) leading towards four year B.Ed Hons). The second is to upgrade the professional qualification, skills and motivation levels of the serving teachers. The latter is more challenging.

Government's stance to upgrade the professional qualification of the serving teachers and to attract bright, young people to the teaching profession is reflected sufficiently in the National Education Policy 2009. Furthermore the reform priority area of improving teacher qualification was incorporated in the Provincial Education Sector Plans across the country. Some progress has been made to achieve these objectives. Among other strategies, revising teachers service rules, the selection criteria, recruitment process and devising a comprehensive human resource policy were identified to improve quality in education.

Teachers' service rules have been revised in all provinces and have incorporated ADE and BEd  (Hons) professional degrees as eligibility criteria for teacher recruitment. Similarly, public sector teacher recruitment process has undergone considerable change. Hiring of teachers on contractual basis has been introduced in all provinces. The pre-requisites for selection of teachers are age limit, minimum required post-specific qualifications; NTS scores and training, in all provinces.

In Sindh, a three years fixed-term contractual employment is offered to candidates with a possibility of extension and regularisation after successful completion of the probation period, according to Sindh teacher recruitment policy 2012 (Reform Support Unit, Education and Literacy Department Sindh). The Sindh Public Service Commission and PITE are the competent authorities for higher posts whereas the applicants for Junior Elementary School Teacher (JEST) required to take a competitive examination/test  (No.SO(B&F)E&L/RE-DESIG-POSTS/2014-15(DISTRICT)/2014).

In Punjab, the change predates devolution of education service delivery mechanism. The educators are offered a five-year fixed term contract (Teacher Recruitent Policy, 2014) leading to possible permanent employment subject to successful completion of the probation period. The candidates are required to score more than 45% in NTS to be eligible to apply for primary school posts. Similar procedure is used in Balochistan and Khyber-Pakhtunkhwa to recruit educators. However, the extent of flexibility in the recruitment system largely depends upon the issues these provinces face respectively. The revised merit-based teacher recruitment system for public schools is designed to improve quality, transparency and reduce vulnerability to political interference, thus offering a fair chance to all applicants.

Similarly, all the provinces have planned restructuring and incentivsing teachers' service to varying extent (See table below) to attract quality human resource and motivate serving teacher workforce by offering a satisfactory wage. On an average, two Basic Pay Scale (BPS) upgrade was planned for all primary and secondary teachers. The change in salaries can help them focus on their teaching assignments instead of seeking alternative means to make ends meet—private tuitions etc —and boost their satisfaction levels. Moreover, teachers can improve their living standard that can modify their social status substantially.

However, this change can have an adverse effect on the private sector education service providers, that educate more than a third of children in the country, especially the low-cost-private schools (LCPS). Low teacher salaries—the bulk of LCPS expenditure—enable these schools to remain affordable for low income quantiles in Pakistan. Increased compensations in the public sector can firstly discourage competent teachers to work in LCPS. Secondly, the LCPS cannot offer low-cost education in case they offer competitive salaries to their staff. Acknowleding that the LCPS compliment the public education sector; the change in teachers' salaries can be a potential risk to quality of education in these schools.

Though their issues and the extent to which education reforms have been implemented vary, provinces that have revised teachers' service rules, improved compensation structure and recruitment process and implemented the new system efficiently will benefit from the change. It is likely that these initiatives will attract bright young people to join the teaching profession that perhaps is our only hope from this system-level change. There are numerous teaching positions are vacant in public sector schools that need to be filled on urgent basis across the country and can provide young aspiring teachers an opportunity of gainful employment. However, the extent to which the serving teachers will be motivated to improve their performance will largely depend on the effectiveness of provincial governments in implementing the reforms, especially those focused on improving teachers' education qualifications.

Published in The Express Tribune, April 29th, 2015.