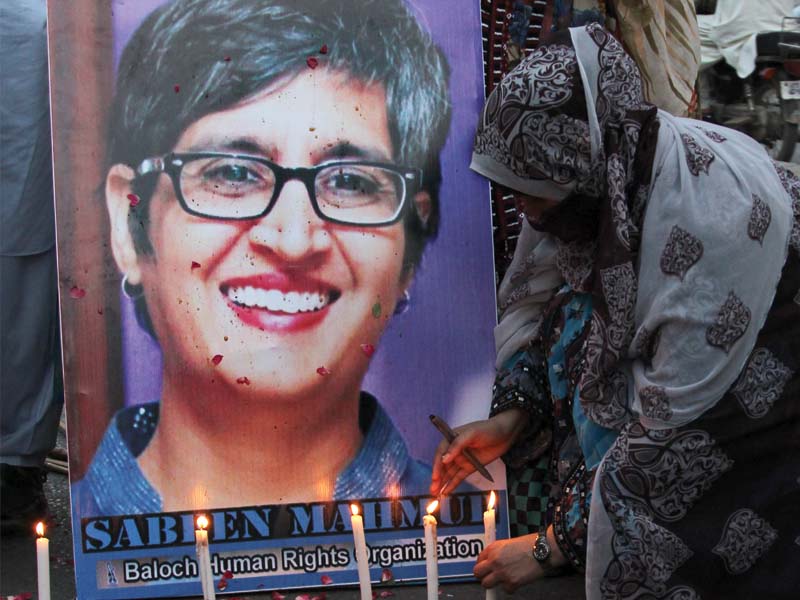 ---
KARACHI: Always eager to lend voice to the subdued, Sabeen Mahmud has, even in death, mobilised several people into demanding a judicial inquiry into her killing.

Several human rights activists, students and others gathered at Karachi Press Club (KPC) on Tuesday evening to make one thing clear: they will not remain silent on her death. The group is planning another larger demonstration at KPC on April 30, followed by daily vigils and protests at Teen Talwar.

The details of the rest of their demands, such as the formation of an independent judicial commission and the arrest of her killers, will be announced later.




On Tuesday, the group met in the small committee room at KPC with activist Anis Haroon and classical dancer Sheema Kermani spearheading the meeting. They discussed their next moves, what to call the movement and what statement to issue.

After attending the meeting, Qurat Mirza of the Women's Action Forum said the activities in memory of Sabeen will be held every day. "We are all Sabeen," she said. "We won't give in till there is justice for Sabeen. No one can silence us."

Journalist Wusatullah Khan, who was part of the Baloch panel discussion at T2F on Friday when she was shot, said that the voice of people can't be suppressed. "Those who want to silence people are using old methods that are obsolete," he said. "This is the 21st century."

Outside KPC, the protesters for the Baloch missing persons, Mama Qadeer and Farzana Majeed, also held posters of Sabeen smiling. A banner read that Sabeen Mahmud stood for truth and humanity. As they shouted slogans of 'Sabeen Mahmud ko surkh salam [we salute Sabeen Mahmud]', the protesters announced that they have named her 'Shaheed-e-Balochistan'. Some of the participants of the KPC meeting also joined the Baloch protesters later.

Sabeen represented the civil society, promoting dialogue and making people come together, said political activist Azhar Jamil. "Investigations should be held to find out the real killers."

Inside the press club canteen, Insiya Syed, a friend of Sabeen's, remembered how she stood up for everyone. Knowing her since 2002, Syed said that seeing her lifeless body at the T2F before the funeral, she remembered how Sabeen would be running around and was always restless during events.

Syed remembered meeting Sabeen on April 17 for dinner. Our friends there had asked Sabeen to either postpone or not to hold the session on Balochistan at all. "But Sabeen said, 'Somebody has to do it', she said." Sabeen was more than an individual, she was a soch [ideology], said Syed.

Mama Qadeer speaks

Baloch activist Mama Qadeer said that he had been receiving threats after Sabeen Mahmud's death. "I am getting threatening calls and some people are warning me that what happened to Sabeen will happen to me if I don't mend my ways," he said. Qadeer said, however, he was ready to face everyone and will continue his movement for the missing persons. "I am waiting for an NOC from the UN and will then hold a long march to Iran, Turkey, Greece and Geneva."

Making a victory sign during the protest, Qadeer recalled Sabeen's last words. "She told me that she was leaving with her mother. And she said 'we will meet later in life'."

Published in The Express Tribune, April 29th, 2015. 
COMMENTS
Comments are moderated and generally will be posted if they are on-topic and not abusive.
For more information, please see our Comments FAQ