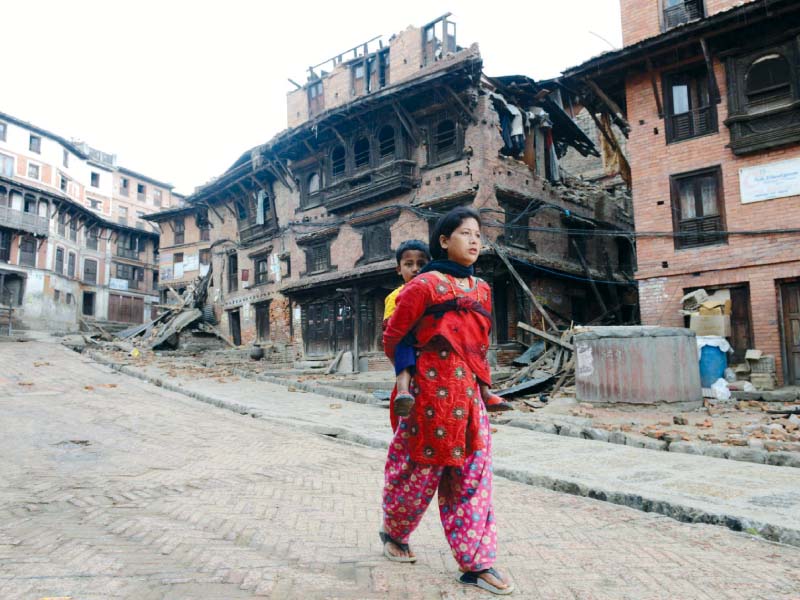 ---
KATHMANDU:



Hundreds of thousands of Nepalis spent another night in the open Monday after a massive quake which killed more than 4,000, as officials warned the final toll could yet rise sharply once rescuers reach cut-off areas.




With fears rising of food and water shortages, Nepalis were rushing to stores and petrol stations to stock up on essential supplies in the capital Kathmandu, left devastated by Saturday's 7.8-magnitude quake.

Officials say more than 4,100 people are now known to have died, including 4,010 in Nepal -- making it the quake-prone Himalayan nation's deadliest disaster in more than 80 years.

More than 90 people have been killed in neighbouring India and China while a further 7,500 people were injured in Nepal.

But senior disaster management official Rameshwor Dangal said the toll in Nepal could jump once rescuers discovered the full extent of devastation in villages.

"Rescue operations are under way, and in many places where buildings have collapsed there might be people trapped," Dangal, the home ministry's national disaster management chief, told AFP.

"We are also in the process of getting information from villages, and these will add to the death toll."

Families who work in Kathmandu were packing onto buses, some even sitting on the roofs, leaving the city, many for their home villages to determine the damage there.

Mothers clutching children and men hauling bags were seen bargaining with drivers of the many buses clogging the roads out of the capital.

The exodus came as international rescue teams with sniffer dogs raced to find survivors buried in rubble, and teams equipped with heavy cutting gear and relief supplies landed at the nation's only international airport.

Elisabeth Byrs, a spokeswoman for the UN's World Food Programme, told AFP the agency would launch a "large, massive operation" with the first plane carrying rations set to arrive on Tuesday.

Pledging $10 million in relief to help the victims, US Secretary of State John Kerry said he had been shocked by the "gut-wrenching" images of the death and destruction.

The quake triggered an avalanche on Mount Everest which buried part of base camp in a cascade of snow and rock, killing at least 18 people Saturday on the world's highest mountain.

Rescue helicopters on Monday airlifted climbers from higher altitudes on the mountain where they were stranded above crevasses and icefalls, after evacuating scores of seriously injured from base camp the day before. 

Published in The Express Tribune, April 28th, 2015.
COMMENTS
Comments are moderated and generally will be posted if they are on-topic and not abusive.
For more information, please see our Comments FAQ