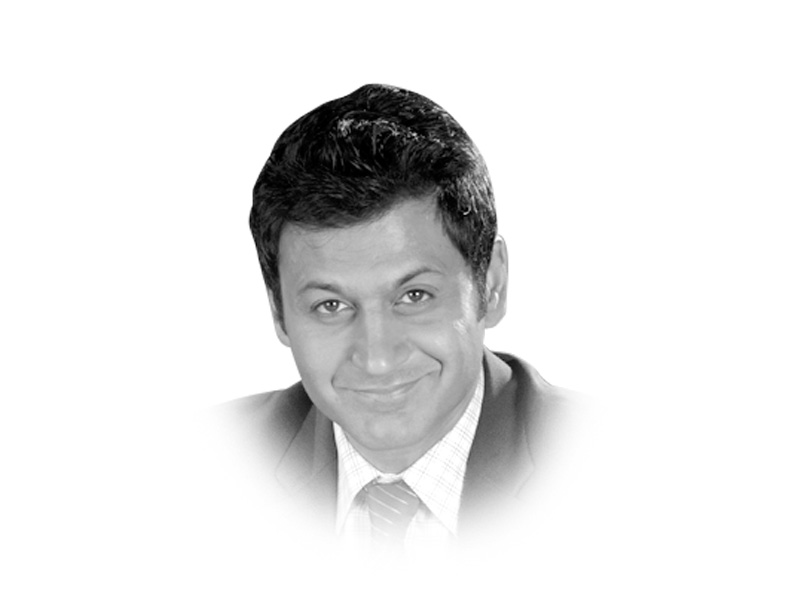 ---
"Cry, the beloved country, for the unborn child that is the inheritor of our fear. Let him not love the earth too deeply. Let him not laugh too gladly when the water runs through his fingers, nor stand too silent when the setting sun makes red the veld with fire. Let him not be too moved when the birds of his land are singing, nor give too much of his heart to a mountain or a valley. For fear will rob him of all if he gives too much." — Cry the Beloved Country, by Alan Paton.

Written in 1948, this powerful and moving book painted a grim picture of social injustice in a racially divided South Africa. At its core ran the theme of fear.

And fear now stalks our land. Sabeen Mahmud — a fearless woman — was brutally gunned down by assassins in Karachi on Friday while her mother suffered serious injuries.

Bullets — it seems — speak louder than words.

What a difference one week can make. Last Sunday I wrote about the agony of ecstasy and the fragrance of spring in the air. The stench of gunpowder is now wafting through clouds of hope, its pungent odour reeking of fear. And dread. Life is cheap in this land of ours — the price of one 9mm bullet that can snuff out a beautiful, precious life. That's it. Bam, bam… and it's over. All those cherished years full of memories; all those hopes and aspirations, and dreams of tomorrow built on an edifice of idealistic resolve; all gone in a second.

Bam, bam… and it's over. Just like that.

I did not personally know Sabeen. No matter. The bullets that pierced her are meant for all those who believe passionately in a cause that will offend someone, somewhere at some point. Who killed her? No one knows, and may not know so for a long, long time. Yes, insinuations and accusations are flying thick and heavy but they lead us nowhere except deeper and deeper into a bottomless sea of confusion.

And fear.

This then is the cardinal sin of the State that lords over this land: an utter and complete failure to protect the lives and property of the citizens. Is this a generic accusation with nothing original left in it? Damn right, it is. But that's exactly the point: fear trumps all, and therefore gnaws away at hope like a pack of piranhas. Fear signifies a collapse of authority; for it trickles down from the helplessness, incompetence and cowardice of those who are meant to enforce authority in the name of the citizens they rule over. Fear is the disease originating from the rotting carcass of a failing governance structure. Can you smell it? Can you sense it? Can you feel it squeezing you from all sides like a hissing python? Hug your children tight and bolt your doors and windows. Fear is on the march yet again.

"Really?" you may ask. "Fear on the march now? What about tens of thousands dead in the last so many years? What about men, women and children blown up, what about scores targeted on the streets, and executed in far-off places? Huh? Well?"

True. All true. Horribly so. But do you see what's happening here? Can you recognise this numbness to horror when it comes and slaps you across the face? Dead men tell no tales, they say. But they do. All these dead people — thousands upon thousands, among whom Sabeen Mahmud is the latest — do tell tales, if we are willing to listen. These are tales of betrayal; of treason; of criminal negligence and orchestrated mayhem. These are tales drenched in tears — and in blood — and these are tales that as yet have no ending. Every time a trigger is pressed, a tale is born.

But do these tales collectively make a narrative powerful and potent enough to generate a response from the State. Zarb-e-Azb? Sure. National Action Plan? Perhaps. Leadership resolve? Partially. So we are on track, right?

Wrong.

We are barking up the wrong tree, travelling down the wrong road, climbing up the wrong mountain, traversing the wrong landscape, and stacking up atrociously wrong priorities. Human beings define progress, not six-lane highways and fancy schmancy economic corridors. "Right, but what's your point?" you may ask. Good question. My point is so maddeningly simple: the murder of Sabeen Mahmud reflects the callousness of the State towards the value of human life, and the absolute de-prioritisation of citizens as the engine for progress and prosperity.

History is the best teacher and it teaches us a very clear lesson: materiel progress was a by-product of social evolution, and not its cause. Political, intellectual and social turmoil in European societies led to the overthrow of old orders and the birth of liberty and equality. Political and financial investment in human potential led to a social system based on checks and balances, and on rights and privileges of citizens. All this led to a flowering of the human mind, which in turn produced a revolution in science, technology, arts, painting, architecture — and weapons of war. In most cases, the path of this evolutionary revolution was led by men and women who thought differently, who shunned conventional wisdom, who challenged authority and revelled in dissent. These sweeping changes that transformed our world were spearheaded by men and women who defied tradition and the old way of doing things. They were the original thinkers, the idealistic visionaries who championed causes bigger than their self.

We need men and women like these to show us the path to our future. People like Sabeen Mahmud who challenged authority and believed in a cause. We may disagree with their ideology but must respect and acknowledge that such brave and fearless people envision a Pakistan that is recognised for its people, not its roads; and for its web of rights, justice and equality, not for its airports, seaports and dry ports.

People die; tales don't, hopes don't, ideas and causes don't. So next time you try killing dreams with a 9mm gun — prepare to be mocked to death.

Published in The Express Tribune, April 26th, 2015.

Like Opinion & Editorial on Facebook, follow @ETOpEd on Twitter to receive all updates on all our daily pieces.