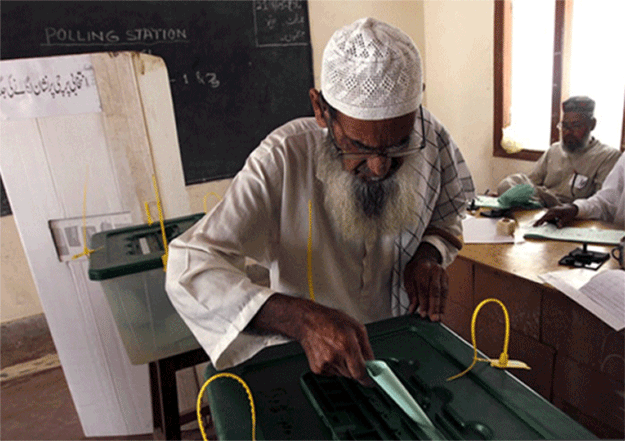 ---
ISLAMABAD:
 After a long gap of almost 17 years, more than 1.8 million registered voters are expected to elect their representatives in cantonment board elections today. Of the 43 cantonments in 29 districts across the country, the Election Commission of Pakistan (ECP) has announced the election schedule for all, except Ormara cantonment where a land ownership dispute is pending.

A total of 1,151 candidates are contesting the elections. Of them, 610 are independents while 541 hold tickets of different political parties. Imran Khan's PTI leads with 137 candidates in the run, followed by PML-N with 128 and PPP 89 contestants. Besides these parties, Jamaat-e-Islami has awarded tickets to 74, PAT to 27 and MQM to 27 candidates.

According to the National Database and Registration Authority (NADRA), which was given the task to prepare updated computerised electoral rolls having a picture of every voter, there are 1,010,245 male and 862,494 female registered voters in all the cantonments.

Special security measures have also been taken. Some 12,400 troops of Pakistan Army and Rangers will be deployed for the elections in 42 cantonments. Troops have been requisitioned by the ECP. They will ensure security and assist the commission in the smooth conduct of elections.




The demography of cantonments, which were originally established exclusively as military garrisons by British rulers around 150 years back, have significantly changed over the years. Due to better civic amenities, healthy lifestyle, and safe and secure environment a large number of civilian population opted to live in these areas.

Twenty, almost half of the total cantonments, are located in Punjab where an intense contest is expected between the ruling PML-N and PTI. The cantonments where the stiffest competition is expected are Lahore, Walton, Sargodha, Rawalpindi, Chaklala, Wah, Gujranwala and Multan cantonments each having 10 wards.

The other three cantonments, having 10 wards each, are located in Sindh, namely Hyderabad, Faisal and Clifton cantonments. Other cantonments vary from medium to small cantonments having 2-5 wards. Among the smaller cantonments is Murree Hills having only 689 voters for its two directly elected seats. The mainstream parties see outcome of these polls as harbinger of the upcoming LG polls in the provinces.

Polls to elect civilian members for cantonment boards are being held under an amended ordinance, which was initially promulgated by then military ruler General Pervez Musharraf in 2002. The PML-N led government had introduced a bill in the parliament proposing considerable changes in the laws that govern cantonments but the proposed legislation was withdrawn on March 6 this year silently for unknown reasons.

Prior to 1864, cantonments used to be administered by military authorities. The British rulers of pre-partition India in 1864 adopted an act and appointed a magistrate to administer the area. In 1880, another act was passed that empowered the cantonment authorities to impose taxes and a legal status was given to the cantonment committee. In 1924, a new act was enacted which introduced a representative local government system under which elected representatives of the civil population became members of the Cantonment Boards.

Ironically, 67 years since independence little has changed when it comes to the governance system in the cantonment areas. Musharraf's ordinance , a continuation of British era 1924 Act in which the station commander stationed in the area would continue to act as president of the cantonment and having unbridled power in the board comprising of elected and non-elected members.

The members elected today through a direct vote will elect members on reserved seats for women, peasants, youth, worker and non-Muslims. All these members together will elect a vice-president — the highest elected office in the board.

A petition filed by a lawyer and a former vice chairman of Quetta Cantonment Board in the Supreme Court served as a catalyst for the apex court to force federal and provincial governments to hold long due local government elections.

Published in The Express Tribune, April 25th, 2015. 
COMMENTS (4)
Comments are moderated and generally will be posted if they are on-topic and not abusive.
For more information, please see our Comments FAQ