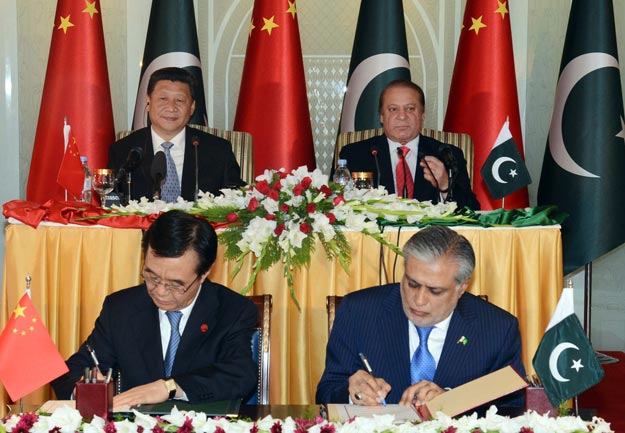 ---
The high-powered visit of Chinese President Xi Jinping to Islamabad, at a time when Pakistan is in need of friends — given the state of our relations with most of our neighbours, as well as with our traditional allies in the Middle East following the Yemen conflict and the parliamentary resolution on it — is a welcome one. The Chinese president is arguably one of the two most powerful men in the world and the warm reception that he has received from the government, the media, and indeed the people of Pakistan should be understood in that light. There is no denying that the president of China clearly intends to deepen ties with Pakistan and that, in the long run, this is good for the country. He said as much during his address to the joint session of parliament on April 21, sentiments that were reciprocated by Prime Minister Nawaz Sharif as well during his speech. Fostering strong friendly relations with our neighbours is a good strategic move, made even better if that neighbour happens to be one of the two poles in an increasingly bipolar world. A number of agreements related to development projects under the ambit of the China-Pakistan Economic Corridor (CPEC) have been signed during the Chinese president's visit and this is an opportune moment to analyse the impact that these agreements could have.




Of the 53 agreements signed on April 20, a total of 31 are private sector agreements in the energy sector. The vast majority of these are projects that have been going through various stages of planning and the contracts for construction have already been awarded to Chinese companies. The agreements signed on April 20 would allow the Pakistani energy companies engaged in those power generation projects to access debt financing from Chinese commercial banks, and thus attain their financial close. Of the $28 billion worth of agreements signed, these agreements account for $22 billion of them. However, we should bear in mind that this money is not a gift: it is a loan made on commercial terms and is expected to be paid back — with interest — to the Chinese lenders. There is nothing wrong with debt per se, particularly when it adds to the critically needed energy infrastructure of the country. But we should recognise that this isn't necessarily a favour we are being offered. Indeed, given the high levels of concentration of Chinese state-owned companies in their balance sheets, the Chinese banks will be achieving a small degree of diversification by lending to Pakistani companies so there is an element of mutual benefit here.

These projects will add substantially to Pakistan's power generation capacity, boosting it by just over a third. The reason Pakistani companies are turning to Chinese banks is because the bulk of the projects in question are for coal-fired power plants, which the World Bank and the Asian Development Bank do not provide financing for any more. We agree with the government's policy that coal-fired power may be an intermediary step necessary to help bring stability to Pakistan's energy sector, but we should also not forget that this should not be our preferred long-term option. Of the remaining $6 billion, the bulk will be spent on operationalising the eastern half of the CPEC. Those loans are being provided at concessionary rates and can have a significant positive impact on the Pakistani economy. And given Beijing's keen interest in the project, we have some reason to hope that this will happen.

Strictly speaking, those who say that China is investing $28 billion in Pakistan are correct. Lending is a form of investment, since loans are fixed income securities. However, those celebrating this investment cannot have it both ways. If these loans from China count as investment, then so should the much-maligned $2 billion US dollar-denominated bond offering that took place last year. Having said that, there is no denying the highly positive impact that the CPEC could have on the populations of the areas through which it will pass, as well as on the country at large. It is important that the government ensures that the smaller provinces are able to garner as much benefit from it as is possible as this project has the potential to transform the lives of millions of people.

Published in The Express Tribune, April 22nd,  2015.

Like Opinion & Editorial on Facebook, follow @ETOpEd on Twitter to receive all updates on all our daily pieces.
COMMENTS (1)
Comments are moderated and generally will be posted if they are on-topic and not abusive.
For more information, please see our Comments FAQ