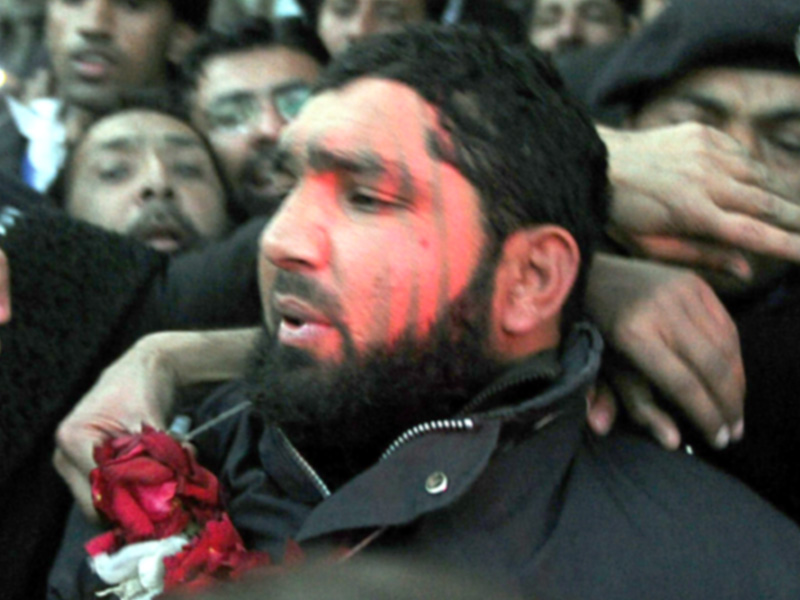 ---
ISLAMABAD: A two-judge bench of the apex court will take up the appeal of Mumtaz Qadri, the self-confessed killer of former governor Salmaan Taseer, on April 20 against an Islamabad High Court's (IHC) ruling upholding his death sentence.

The bench comprises Justice Dost Muhammad Khan and Justice Umar Ata Bandial.

On March 9, the IHC dismissed Qadri's appeal against two capital punishments awarded to him by an anti-terrorism court in October 2011.

In an eight-page section of the ruling, the court said that intentions are an important factor before someone can be labelled a blasphemer.

Justice (retd) Mian Nazeer Akhtar, counsel for applicant, while talking to the media stated that the IHC's "un-Islamic" judgment had various "illegalities". Akhtar also said the above mentioned section was illegal and un-Islamic because Section 295-C of the Pakistan Penal Code (PPC) does not define the element of intent.

"Once somebody commits blasphemy, he must face the consequences," he said, adding that by terming the blasphemy law as 'black law', Taseer had committed blasphemy and deserved death.

The plaintiff has submitted in his petition that the case does not fall under Section 302 (murder with intention) of the PPC, which recommends death penalty, but under Section 302(b), which carries punishment of life imprisonment.

Justice (retd) Khawaja Sharif, a former chief justice of Lahore High Court, is defending Qadri voluntarily.

Meanwhile, the federal government has also challenged the IHC's verdict to drop terrorism charges against Qadri.

The IHC had set aside his conviction under section 7 of the ATA but upheld the death sentence under 302 of the PPC. This means that Qadri is guilty of murder but not terrorism.

Published in The Express Tribune, April 19th, 2015.
COMMENTS
Comments are moderated and generally will be posted if they are on-topic and not abusive.
For more information, please see our Comments FAQ