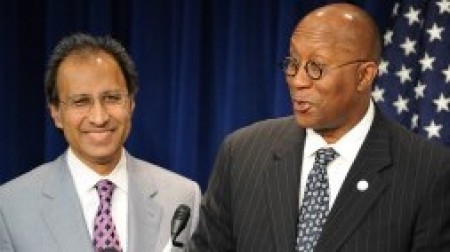 ---
WASHINGTON: The United States said on Friday it remained committed to a four-year-old promise by former President George W. Bush to create a trade preference program for Pakistan, a measure that has been bottled up in Congress.

"We reaffirmed our commitment to support Pakistan through market access initiatives," the United States and Pakistan said in a joint statement at the end of a meeting to discuss trade and investment issues.

"Both sides agreed to work together and with the US Congress to move ROZ (Reconstruction Opportunity Zone) legislation forward so that we realize the key priority of creating legitimate and productive jobs in areas vulnerable to the influence of violent extremism," the countries said.

Bush promised the ROZ program during a March 2006 trip to Pakistan, a key ally of the United States in its war against al Qaeda and Taliban militants.

The program has faced political obstacles in Congress. It is aimed at creating jobs in Pakistan and Afghanistan by providing duty-free access to the United States for certain goods made in approved zones within the two countries.

Pakistan's biggest export to the United States is cotton clothing and household goods. That category accounted for $2.4 billion of its total exports of $3.2 billion to the United States last year.

Edward Gresser, a trade policy specialist at the Progressive Policy Institute, estimates that Pakistan pays some $315 million in US duties on its clothing, bedsheet and towel exports to the United States.

The Democratic-controlled House of Representatives passed a ROZ bill in 2009. But US retailers and clothing importers that favor a broader program for Pakistan complained the legislation was too narrow in scope in deference to the concerns of US textile makers. Republicans also objected it imposed overly restrictive labor requirements on Pakistani companies.

The controversy blocked Senate action on the legislation, with no resolution in sight.

During the meeting on Friday, senior Pakistan and US officials "discussed progress on labour rights monitoring and enforcement, including Pakistan's efforts to improve and consolidate its labour laws," the joint statement said.

"We also agreed to work together to develop new ideas to enhance market access, foster investment, and create jobs in both of our countries," the statement said.

Congress is expected review all US trade preference programs this year, with an eye toward reform. But many lawmakers from textile states strongly oppose cutting the remaining US textile tariffs.
COMMENTS (1)
Comments are moderated and generally will be posted if they are on-topic and not abusive.
For more information, please see our Comments FAQ