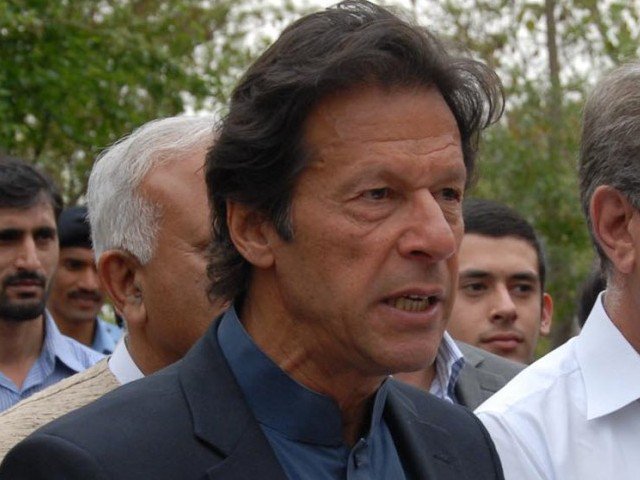 ---
Touching down in Karachi for his rally on Sunday, Pakistan Tehreek-e-Insaf (PTI) chairman Imran Khan said the NA-246 by-polls would determine the fate of Karachi.

"One seat in the National Assembly will not make a difference to PTI, but it will change the future of Karachi," the PTI chairman said, while addressing the media in Karachi.

"NA-246 is crucial for Karachi's fate," Imran added.

Read: NA-246 by-polls: ECP turns down Rangers request for biometric systems

Claiming that Karachi has been gripped by "an atmosphere of fear" for the past 25 years, Imran urged Rangers to ensure people vote and are not held back.

"For the past 25 years there has been an atmosphere of fear in Karachi but the Rangers should not let the same happen on the day of by-polls."

Imran added that his party has never picked up weapons and would never do so. "PTI is spreading all across Pakistan, while the other parties have become regional," he said.

Further, the PTI chief requested its rival party in the by-polls, Muttahida Qaumi Movement, to allow the people of Karachi to vote freely.

"I request MQM to allow people to vote for the candidate they want and not to influence their decisions," he added.

Read: For free, fair elections: Law enforcers demand biometric voting for NA-246 by-polls

The PTI chairman arrived in Karachi on Saturday along with his wife Reham Khan and party leaders Shah Mehmood Qureshi and Jehangir Tareen. PTI is set to display its might on Sunday as it has organised a rally at Jinnah Bagh, MQM's stronghold.

Read: NA-246 by-polls: PTI announces to hold rally at Jinnah Ground on April 19

Candidates from MQM, PTI and Jamaat-e-Islami are strong contestants in the NA-246 by-polls. The seat fell vacant after MQM candidate Nabeel Gabool resigned from his position due to differences with the party.
COMMENTS (28)
Comments are moderated and generally will be posted if they are on-topic and not abusive.
For more information, please see our Comments FAQ