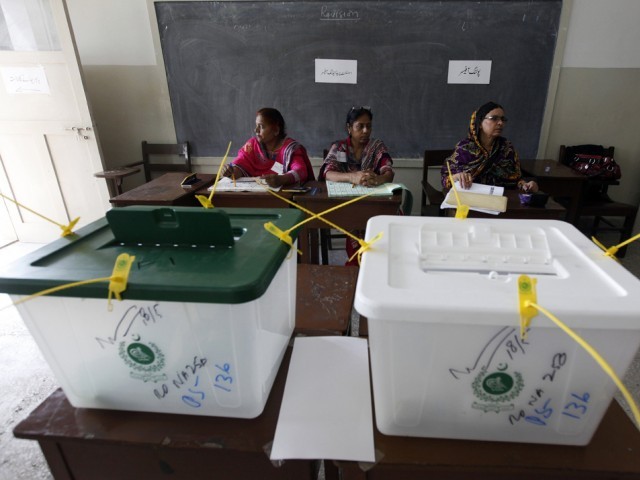 ---
KARACHI: Secretary Election Commission Pakistan (ECP) Babar Yaqoob turned down on Saturday Rangers request to install biometric system in NA-246 constituency ahead of the by-elections.

The ECP secretary said that the commission does not have enough time to implement biometric systems in the constituency and that the move would require many legal and procedural changes.

Yaqoob added that Rangers would be given magisterial powers on polling day, whereby they can arrest offenders in case any voter fraud is reported.

He said 358,000 ballot papers are being printed under the supervision of Pakistan Army and Rangers.

Responding to Pakistan Tehreek-e-Insaaf (PTI) reservations on 'ghost polling stations', Yaqoob said they are investigating the claims.

The ECP secretary said there will be no load-shedding on the day of by-polls, while no one except the presiding officer will be allowed to take their cell-phone inside the polling stations.

He hoped that by-elections held in peaceful atmosphere will result in bringing up eligible political leadership.

Imran Ismael calls for free and fair elections

Pakistan Tehrik-e-Insaf (PTI) candidate Imran Ismael raised concerns over the neutrality and impartiality of the polling staff in the NA-246 by-elections, alleging they have affiliations with their rival political party Muttahida Qoumi Movement (MQM).

Speaking to the media after a meeting with the secretary election commission, Ismael demanded the counting of votes should take place under the presence of Rangers, Express News reported.

Ismael further said that they have informed the ECP about, what he called, persistent attacks by MQM on their rallies every other day during the election campaign.

PTI chairman Imrna Khan is set to arrive in Karachi today to boost the polling campaign as the party prepares to organize a rally in the run-up to the by-elections.

MQM candidate meets ECP

Kanwar Naveed Jamil has also held a meeting with the secretary Election Commission. According to Express News, Jamil informed the commission about the 'code of conduct violations taking place in the aforementioned constituency' and urged him to take action against the same.