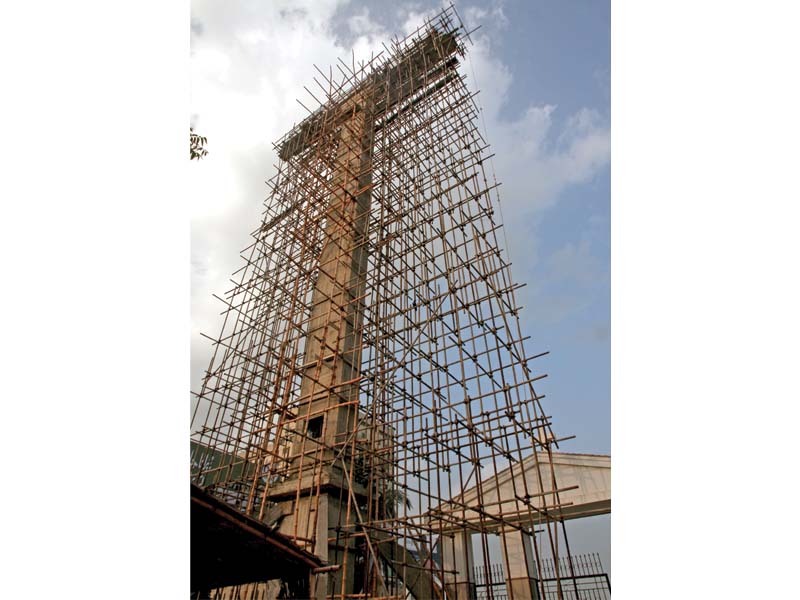 ---
KARACHI: A 140-foot-tall cross made of roller-compacted concrete is nearly ready to dot the city's skyline.

The structure is under construction at one of the oldest Christian cemeteries in the city but the donors were hesitant to share the exact locations. They did, however, claim that it will be the tallest cross in all of Asia.

Donated by the Henry Gill family, the construction work is supervised by Parvez Henry Gill himself. A mixture of steel and concrete, the structure will be 20 feet deep. The cross is expected to be completed in the next three months under the supervision of the architect Musa Gill.




"The image of Pakistan, as far as the minorities are concerned, is really tarnished," said Parvez, the donor. "We are trying to tell the world that there are good people here too."

Parvez hopes that this cross will reduce the stress and depression that prevails among the minorities in the city. "I agree that minorities have problems here and that is why some of them are migrating," he admitted. "But this [cross] will build show that [attacks on minorities] are not the only thing happening in Pakistan."

The donor did not rule out the possibility that the huge structure will pose a threat to the graveyard's security. "It is God's work," he said, trusting that the structure will have divine protection. "We are not scared of anyone but God."

Parvez realised that the construction work is risky and the people involved in the project are taking personal precautions. Some people were reluctant to work on this in the beginning since it is a cross, he said, adding that they managed to convince some people to join and now their team has both Muslim and non-Muslim workers.

"We gave them permission a year ago to build [the cross] but the construction work has recently become fast," said Anwar Sardar, the general secretary of the Karachi Christian Cemeteries Board. Security threats are everywhere and anything could happen in this city but there is little we can do about it, he added.

Published in The Express Tribune, April 13th, 2015. 
COMMENTS (8)
Comments are moderated and generally will be posted if they are on-topic and not abusive.
For more information, please see our Comments FAQ