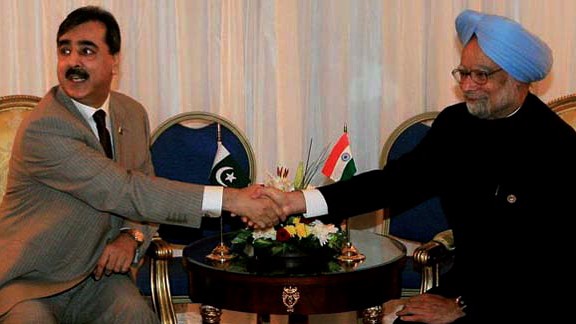 ---
NEW DEHLI: A senior Indian government official has hinted at the possibility of a meeting between the prime ministers of India and Pakistan on the sidelines of the Saarc summit.

The 16th summit meeting of the South Asian Association for Regional Cooperation (Saarc) is scheduled to be held in Thimphu, Bhutan from April 28 till 29. "It is an opportunity (to meet) and both sides will take advantage of it," the official told Reuters on condition of anonymity. He was referring to a possible meeting between Prime Minister Yousaf Raza Gilani and his Indian counterpart Manmohan Singh. India's Foreign Secretary Nirupama Rao said late on Thursday that there was no offer of a bilateral meeting between the two leaders.

But she did not rule out the possibility of a meeting. "I don't really want to forecast what is going to happen, but let me say: dialogue is always useful, it helps clear the atmosphere, especially between close neighbours such as India and Pakistan," Rao said before leaving for Bhutan. Pakistan's Foreign Office said on Friday that neither Pakistan nor India has made any formal request for a separate meeting between their leaders at the summit. "Although Pakistan wants its neighbour to resume composite dialogue, still hostage to Mumbai attacks, India has shown no such desire after the meeting of the foreign secretaries of the two countries in New Delhi on February 25.

India had halted peace talks after the November 2008 Mumbai attacks which it blames on Pakistan-based groups. A meeting between the leaders is seen as crucial because it could help keep alive the idea of engagement between two players whose battle for influence in Afghanistan has a direct bearing on Western efforts to stabilise a region with 1.8 billion people. The Foreign Office said in a statement that Afghanistan, Bangladesh, Bhutan, India, the Maldives, Nepal, Pakistan and Sri Lanka would be attending the summit. Observers from China, Iran, Japan, South Korea, Mauritius, Myanmar, Australia, the United States, and the European Union would also attend.

The summit will be preceded by a Council of Ministers and meeting of the Standing Committee. The summit will adopt a declaration focusing on problems relating to environment and climate change.
COMMENTS
Comments are moderated and generally will be posted if they are on-topic and not abusive.
For more information, please see our Comments FAQ