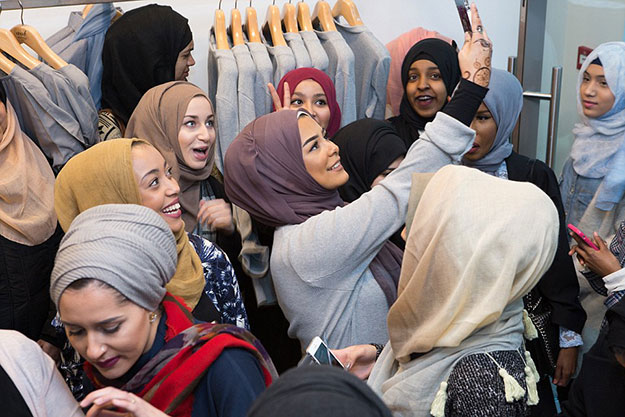 ---
An Islamic clothing firm, 'Aab' opened its first clothing store in London's east end, where more than 2,000 shoppers arrived for its opening.

The Islamic clothing firm opened the store in London to compliment its online offering to its growing market.

Customers queued around the block as they waited for the opening and to get their hands on the new designs.





PHOTO: MAIL ONLINE


"We are very excited and delighted to be able to launch our first physical store for our clients in London," said Nazmin Alim, creative director of Aab.

"The city is a key market for us. It's one of the most important international centres of fashion," Alim added.

The company was founded in 2007 and creates original designs using in-house designers who take inspiration from global fashion trends and offers bespoke and limited edition collection.





PHOTO: MAIL ONLINE


The brand is one of the world's leading online retailers in the modest clothing sector.

Further, the creative director said "This boutique store represents a physical manifestation of the Aab brand and heritage. It will enable us to present the premium quality of the brand authentically in an appropriate setting so our customers will be able to see, touch and feel our products in an environment we have carefully curated."

Experts predicted that the UK's modest clothing market could be worth £100m a year and with customers from America, Canada, Malaysia, Indonesia and the Middle East, Aab said it is one of the world's leading online modest clothing brands.

Aab said the opening of the London store was the first phase of a long-term growth plan which includes boutiques in key 'international financial and fashion hubs' over the next three years including the Middle East, Malaysia and Indonesia.





PHOTO: MAIL ONLINE


"Aab set out to create garments that take into account simplicity, style and comfort desired by Muslim women who find themselves playing multiple roles in today's society," Aab said on its website.

"Aab's concept is based on easy pieces, where a handful of interchangeable items work together to create an entire wardrobe that goes from day to evening, weekday to weekend, season to season," it added.

Excited fashion lovers of the modest clothing brand took to social media to tweet about the new store opening:


Islamic clothing boutique 'Aab' to open first store in London http://t.co/1QyTucxCW4

— Susan Cattus Triggs 🏴󠁧󠁢󠁥󠁮󠁧󠁿 (@susiejaneuk) March 19, 2015
Islamic clothing boutique 'Aab' opens first store in London #Aab #Hijabster #Hijabsta #Hijab #Islamicclothing http://t.co/4yi1K97H7o

— HalaalQuest (@HalaalQuest) April 2, 2015
Aab Store Launch covered in Daily Mail!!!
''The great fashion cover-up!
World-leading Islamic clothing firm... http://t.co/iMGj1iY2j6

— Aab (@aabcollection) March 30, 2015


https://twitter.com/Nehasbeautyspot/status/570848060185710592

This article originally appeared on Mail Online
COMMENTS (3)
Comments are moderated and generally will be posted if they are on-topic and not abusive.
For more information, please see our Comments FAQ