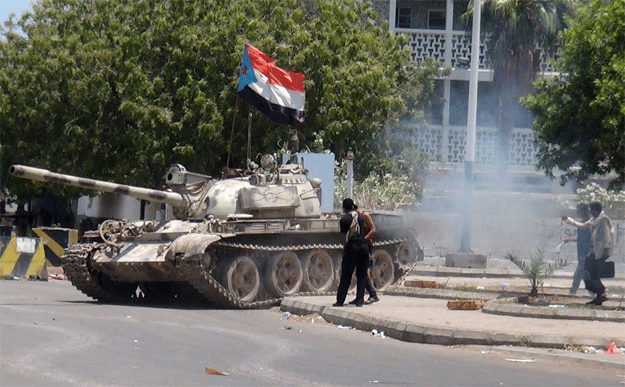 ---
KARACHI:



Amidst persisting confusion about Pakistan's official position on the Yemen conundrum, the country's opposition parties on Wednesday called upon the government to immediately convene an all-party conference (APC) and a joint session of parliament before taking a decision.




The demand was made at a huddle of opposition parties convened by PPP Co-Chairman Asif Ali Zardari at Bilawal House in Karachi. Attendees included ANP President Asfandyar Wali, MQM's Dr Farooq Sattar, JUI-F's Rashid Mahmood Soomro and BNP's Israrullah Zehri and their aides. JUI-F chief Maulana Fazlur Rehman and Jamaat-e-Islami Amir Sirajul Haq were also expected but didn't show up.

Reading out from a joint declaration approved at the meeting, PPP Vice President Sherry Rehman said: "The participants expressed grave concern over the [precarious] situation in Yemen and its [possible] implications for the region and also for Pakistan."

The participants reaffirmed that the stability and integrity of the Gulf and all Middle Eastern countries was of paramount importance and called for resolving the Yemen crisis through dialogue, she added. "They also expressed a firm belief that Saudi Arabia's centrality is pivotal for Muslims of the world and that our response should reflect this belief."




Nonetheless, they said the gravity of the issue demanded that no one individual should take any unilateral decision without broad-based consultation with all political parties and stakeholders.

Speaking to reporters the political leaders said the PML-N government should consult all opposition parties in an effort to come up with a national policy on the Yemen imbroglio.

"The defence of Saudi Arabia is equally important, but peace and stability in the region is also need of the hour," Zardari said, adding that the [Yemen] fire has engulfed almost all Islamic countries and Pakistan should have to play its important role. He said the opposition parties would also contact the PTI and other parties on the issue.

"No one can deny that the security of the two holy mosques [in Saudi Arabia] is the duty of the entire Muslim world, but we believe in dialogue to resolve this conflict. When I was president I did my best to narrow down differences among Muslim states on different forums," Zardari said.

The PPP leader also spoke about the economic future of 1.5 million Pakistanis living in Saudi Arabia and called upon the government to take steps for their safety.

Dr Sattar and Asfandar said their parties were upset over the events unfolding in the Arabian Peninsula where Muslims are up in arms against each other. "There is a dire need to evolve a national consensus on this issue. The government should not take any decision in haste," Asfandar said.

Published in The Express Tribune, April 2nd, 2015.
COMMENTS
Comments are moderated and generally will be posted if they are on-topic and not abusive.
For more information, please see our Comments FAQ