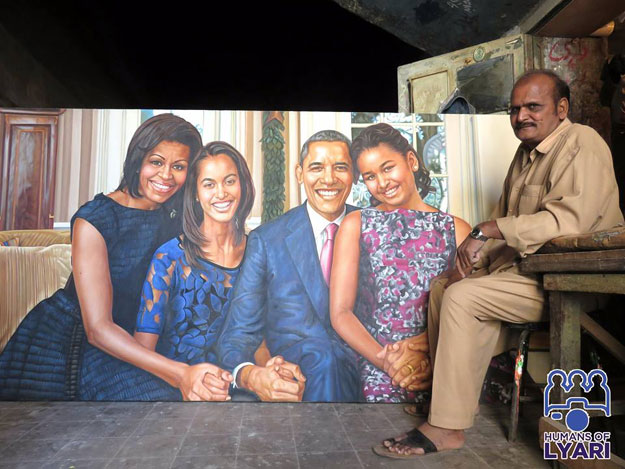 ---
A photoblog on Facebook, Humans of Lyari (HoL) is a project which aims to bring forth the talent of residents of Lyari. One such talent is Parvez Bhatti who painted a picture of Obama and his family which has now gone viral.

"I loved painting ever since I was a child", said the enthusiast painter when HoL interviewed him.

With a flair for painting since a young age Parvez continued, "It has been 40 years since I have been working as a painter. I used to paint movie posters for cinemas and I also used to take orders for different art galleries".

However, he was discovered after his Obama painting went viral on HoL's Facebook page, "This is one of my best paintings so far in which I have drawn family portrait of American president Obama. I really want to gift this painting to him."


PHOTO: M T Latifee, HoL Facebook

So far he has garnered countless fans from Facebook, located all the way in the US, with everyone trying their level best to get him closer to his dream. Some have even used Obama and Michelle hashtags to try and get their attention.


Pakistani painter wants to gift his painting to Obama: https://t.co/Cg1QBfzU7p CC: @WhiteHouse @usembislamabad @usconsulatekhi @StateDept

— 𝔼 𝕀 𝕊 𝕊 𝔸 मिकी मिनाश (@senoreissa) March 31, 2015
Dear @BarackObama @MichelleObama.

From Lyari, #Pakistan with Love.
Credits: Humans of Lyari. pic.twitter.com/IoYt2ztQFs

— Ehtesham Hussain (@Ehtesham300) March 31, 2015

https://twitter.com/madihariaz/status/583128798335483904
https://twitter.com/husnainxshahid/status/583001316932210688

Many have sent his picture to Humans of New York, The Ellen DeGeneres Show, Jimmy Kimmel Live and The Tonight Show starring Jimmy Fallon, hoping that he gains recognition for his work.

Here are some more talents from HoL:


PHOTO: HoL Facebook

Barqat Balouch a qualified gymnast, has been qualified for Olympics and National Games. He has been teaching Gymnastics to the kids in Lyari voluntarily since 1980.




PHOTO: HoL Facebook

At 87, Mehrkhathun, is the sole provider of her family, stitching clothes, and selling embroidered pens.




PHOTO: Emmad Ismail

M Essa Parya has participated in the Karachi Marathon and Hale-Jheel, Sindh Round the Lake Marathon. His ambition is to win a gold medal in world Olympics for Pakistan.