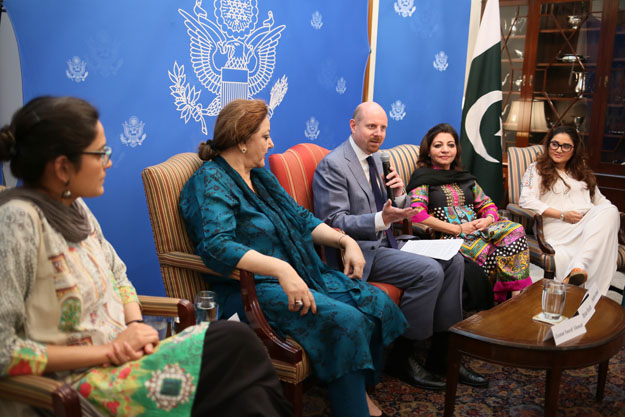 ---
KARACHI: In an attempt to help Pakistani women overcome challenges to achieve success, Chief Executive Officer of Taneez, Zeenat Saeed, says girls need to convince and impress their parents with their ability to perform well in their places of interest.

"It is for you to prove that you are able and capable to do it," she said, while addressing a panel discussion organised by the US Consulate, moderated by the Consul General in Karachi Brian Heath and attended by more than 100 women.







PHOTO: CONSULATE GENERAL OF THE UNITED STATES OF AMERICA



Creative Director for FnkAsia Huma Adnan, who was also one of the panelists at the event, added that the child needs to bring the trust element in their parents. "If you are very sure of what you want to do, do that but let your parents know that you will not break their trust."

Sharing her words of wisdom, Head of Emergency at Jinnah Post Graduate Medical College Dr Seemin Jamali said its a man's world and women don't have space.

"Dreams do come true but these young girls need to be resilient, work a mile extra," she said, while motivating the audience.

Adding to the pieces of advises, Chief Executive Officer Teach for Pakistan Noorul ain Masood said you should be able to draw boundaries in a man's world.

"No means no ... I wish someone told me that 10 years ago," she spelled out.







PHOTO: CONSULATE GENERAL OF THE UNITED STATES OF AMERICA



Masood also underscored the significance of exploring unique character traits in oneself, saying that these can be deployed in a profession, and not just the skills, to show their strengths in a patriarchal society like Pakistan.

Suggestions like coaching and training younger boys to get rid of stereotypes as well as learning various self-defense techniques forming a part of Taekowndo and Karate were also made during the discourse.

Turning the tables, one of the members of the audience said women alone are to be blamed for making men feel more superior and referred to the kind of attitude mothers and sisters adopt towards their sons and brothers respectively.

Singer Tina Sani also said that women fail to work hard and are lazier than men. "They don't like to work on their own and need constant guidance. Men have the pressure to take it, have a career."







PHOTO: MEHAK AMEER



Appreciating the amount of respect given to women in Pakistani society, Huma said we are privileged than women in other parts of the world and this needs to be acknowledged.

Speaking to The Express Tribune, the US consul general said he is convinced that the discourse has started to generate ideas and it will help more women to engage in workplaces, making Pakistan a stronger nation.