Pakistan International Airlines (PIA) was under fire by authorities at Heathrow Airport for violating UK laws as the national airline's crew carried restricted goods in excess in their personal luggage allowance.
In a letter, the UK Border Force issued PIA a 'yellow card' as the crew carryied restricted items in excess as part of their duty-free personal allowances. The letter also stated that PIA must conform itself to the 'green' (satisfactory) category.
"If PIA fails to comply with the rules, it may be issued a 'red card', which means it has to stop operating," the letter warned further.
"A number of your employees, when operating as crew, have been identified as failing to comply with Border Force policy and/or UK law," the letter stated, reminding the airline of an earlier incident where ineligible persons had used Heathrow Crew Clearance Facility.
Authorities at Heathrow said that if PIA does not comply to the rules, it could result in the withdrawal of facility from building 820 and thus crews will have to clear UK Border via the passenger terminals, along with arriving passengers.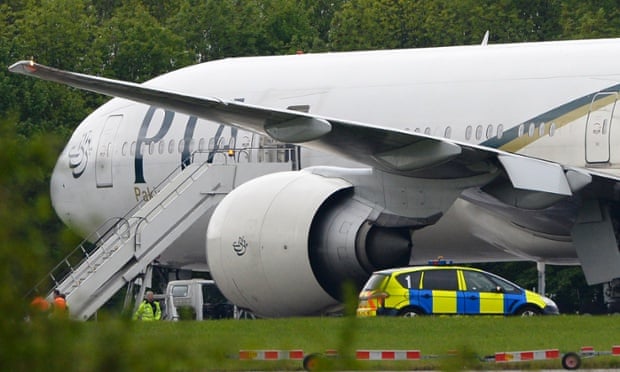 A Pakistan International Airlines Boeing 777 aircraft is stranded after it was intercepted by British fighter jets. PHOTO: AFP
Reasserting its stance, management at Heathrow asked PIA to advise its employees that persistent non-conformity with border control law and policy will not be tolerated.
PIA has suffered from depleting relations with other countries. PIA was allegedly being forced to shut down its India operations over its "illegal" purchase of properties in violation of the Reserve Bank of India (RBI)'s guidelines.
Read: PIA allegedly being forced to 'shut down operations in India'
Earlier this month, PIA  restored its flight operations to Bangladesh after a week-long suspension. The flights to Dhaka were suspended on February 25 to protest against 'harassment' of PIA crew and passengers by Bangladeshi security personnel.
Read: PIA restores flight operations to Bangladesh
The national flag carrier has also terminated services of 260 employees of different cadres after an inquiry showed that their educational certificates were forged.
Managing Director PIA Shah Nawaz told reporters that some other cases including the case of a former cricketer's brother were still pending.
Read: Punitive action: PIA fires 260 employees over forged degrees
The story was originally published in Daily Times