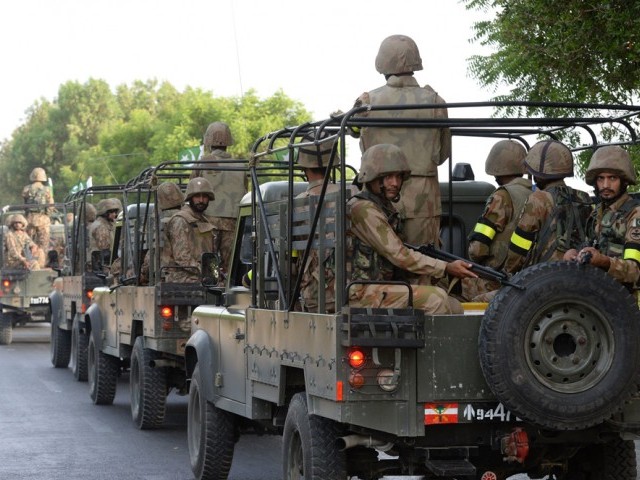 ---
RIYADH: Saudi Arabia said Thursday that five Muslim countries including Egypt and Pakistan want to participate in the Gulf-led military coalition against Huthi rebels who have seized large swathes of Yemen.

Together with Jordan, Morocco and Sudan, they have "expressed desire to participate in the operation" against the rebels, which the kingdom dubbed "Firmness Storm", Saudi SPA state news agency said.

Egypt participated in the Saudi-led campaign against Huthi militias in Yemen with its naval and air forces, an Egyptian military source said on Thursday.

Warplanes from Saudi Arabia and Arab allies struck the rebels fighting to oust Yemen's president on Thursday, a gamble by the world's top oil exporter to check Iranian influence in its backyard without direct military backing from Washington.

Saudi Arabia and four other Gulf states, including Bahrain, Kuwait, Qatar and the United Arab Emirates, announced earlier a decision to "answer the call of President Hadi to protect Yemen and his people from the aggression of the Huthi militia."

The kingdom's ambassador to the United States announced from Washington that a coalition of 10 countries, including the five Gulf monarchies, had been set up to protect the Yemeni government.

Adel al-Jubeir did not name other members of the coalition.

The United States said it would provide "logistical and intelligence support" to the operation.

Britain's Foreign Office said on Thursday that Britain supports Saudi Arabia's decision to intervene militarily in Yemen, adding that it regarded recent actions by Huthi militia there as a sign of their disregard for the political process.

Saudi-owned al-Arabiya news channel said the UAE sent 30 jet fighters to Saudi Arabia to take part in the air strikes, while Jordan will be participating with six aircraft.

The channel also said that Egypt and Pakistan would dispatch jet fighters and warships to take part in the campaign.

Yemeni President Abedrabbo Mansour Hadi had urged Arab countries to intervene militarily as anti-government forces closed in on the southern city of Aden, where he had taken refuge.

Yemen has been gripped by growing turmoil since the Huthi rebels overran the capital Sanaa in September.

Iran condemns Saudi strikes in Yemen as 'dangerous step'

Iran condemned regional rival Saudi Arabia on Thursday for launching air strikes on Huthi rebels in Yemen, saying it was "a dangerous step" that violated "international responsibilities and national sovereignty."

Foreign ministry spokesperson Marzieh Afkham said that the military action would "further complicate the situation, spread the crisis and remove opportunities for a peaceful resolution of Yemen's internal differences."

"This aggression will have no result except to spread terrorism and extremism, and increase insecurity throughout the region," she said in a statement, calling for an immediate halt to the air strikes.

Her comments were echoed by Alaedin Boroujerdi, the head of the Iranian parliament's national security and foreign policy committee, who accused Saudi Arabia of irresponsibility.

"The fact that Saudi Arabia has fanned the flames of a new war in the region shows its carelessness," he said, in comments carried by the Fars news agency.

"The smoke of this fire will go into the eyes of Saudi Arabia as war is never limited to one place only. We hope this military operation will be halted immediately and the Yemen problem solved through political means."

Boroujerdi accused the United States of backing the Saudi air strikes.

"America, which leads the fire mongering in the region, has supported this act and no doubt Saudi Arabia and some countries in the Arab cooperation council would not get involved without America's permission," he said.

"Having imposed long years of crisis in Iraq, Syria and Afghanistan, America has in practice started another crisis and massacre on the Islamic world and this act is strongly condemned," he added.

Senator inquires government's stance on Saudi request

Independent Senator Mohsin Khan Leghari submitted a call attention notice in Senate on Thursday, seeking an explanation from concerned authorities over Saudi Arabia's request for Pakistan to provide assistance in its campaign against Huthi rebels in Yemen.

Leghari asked minister incharge of the cabinet division to clarify the government's stance on Saudi request.

Leghari said the House must be apprised about the possibilities of our armed forces being sent to take part in the conflict.