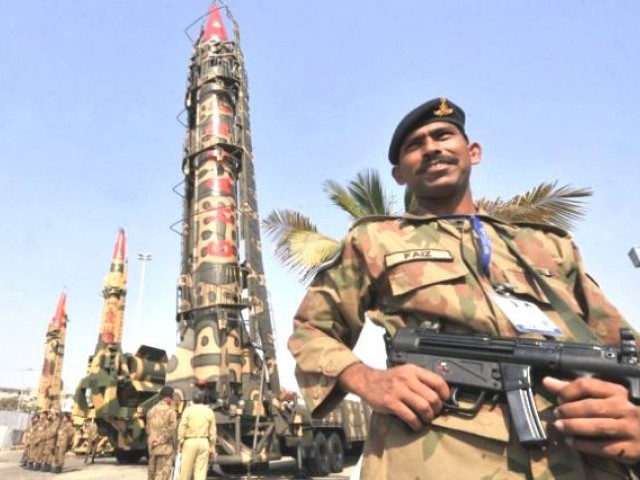 ---
WASHINGTON: The Adviser to the National Command Authority Khalid Kidwai said Pakistan needs short-range "tactical" nuclear weapons to deter arch-rival India, Associated Press reported on Tuesday.

"Having tactical weapons would make war less likely," Kidwai said at a conference on nuclear security organized by the Carnegie Endowment for International Peace in Washington.

Kidwai said nuclear deterrence had helped prevent war in South Asia. Pakistan's development of tactical weapons — in the form of the Nasr missile, which has a 60-kilometer range — was, according to Kidwai, in response to concerns that India's larger military could still wage a conventional war against the country, thinking Pakistan would not risk retaliation with a bigger nuclear weapon.

Kidwai has led the administration of Pakistan's nuclear and missile weapons program for 15 years.


During the conference, Kidwai rejected concerns over the security of Pakistan's nuclear arsenal, insisting that adequate safeguards are in place to protect what analysts have described as the world's fastest-growing atomic arsenal.


On the sidelines of the conference, former Indian special envoy for disarmament and nonproliferation Rakesh Sood said it was "extremely destabilizing for any country to develop tactical nuclear weapons" and that India has no plans to. He contended that Pakistan's nuclear doctrine is "cloaked in ambiguity" which undermines confidence between the two countries.

Pakistan's development of smaller warheads built for use on battlefields, in addition to longer-range weapons, has increased international concerns that they could get into rogue hands because of the pervasive threat of militants in the country.


Pakistan and India have held on-off peace talks over the years but are involved in a nuclear and missile arms race that shows no sign of abating.




Neither side discloses the size of its arsenal. But a recent report by the Council on Foreign Relations think tank estimated that Pakistan has enough fissile material to produce between 110 and 120 nuclear weapons, and India enough for 90 to 110 weapons.




Kidawai said given the strength of the rest of Pakistan's nuclear arsenal, the fear of "mutually assured destruction" of the South Asian rivals would ensure that "sanity prevails."




At the other end of Pakistan's missile inventory is the Shaheen-III missile that it test-fired this month. It has a range of 1,700 miles (2,750 kilometers), giving it the capability to reach every part of India — but also potentially to reach into the Middle East, including Israel.




Kidwai added that Pakistan wanted a missile of that range because it suspected India was developing strategic bases on its Andaman and Nicobar islands in the Bay of Bengal. He said the nuclear and missile program was "India-specific" and not aimed at other countries.


This article originally appeared on AP.
COMMENTS (36)
Comments are moderated and generally will be posted if they are on-topic and not abusive.
For more information, please see our Comments FAQ