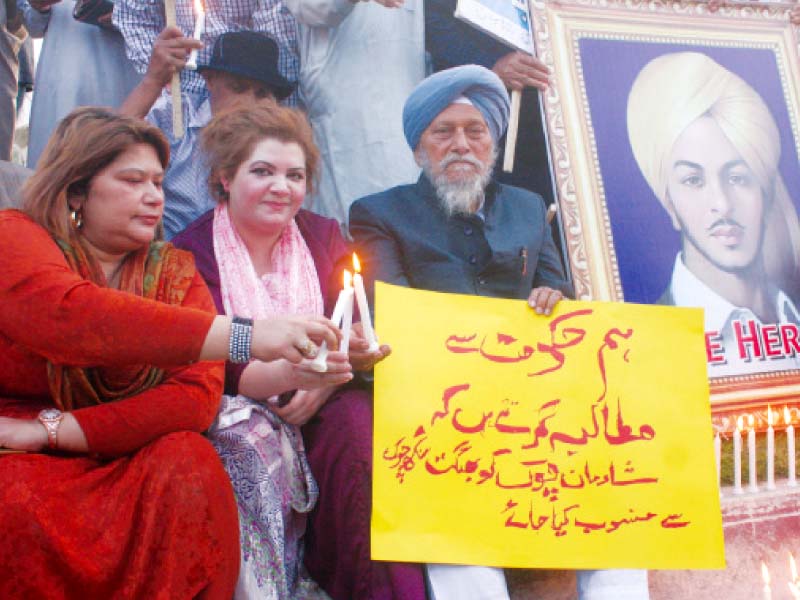 ---
LAHORE:



Hundreds of people attended a vigil held on Monday to commemorate the 84th death anniversary of revolutionary leader Bhagat Singh. The participants demanded that government make Singh's life and revolutionary struggle part of the syllabus.




The Bhagat Singh Foundation and the Bhagat Singh Memorial Foundation had organised the candlelight vigil at Fawara Chowk near Shadman.

Activists Satya Paul and Rabia Bajwa; Jatan Desai, the Pakistan-India Peoples Forum for Peace and Democracy secretary general; and Nanak Singh Nishtar, the Confederation of Voluntary Association (COVA) president, were among the participants.

They carried placards inscribed with slogans about Singh's bravery.

The speakers paid rich tribute to Singh for his struggle to end the British rule. "He believed in socialism and made efforts to establish a system based on equality," they said. They demanded that Fawara Chowk be renamed Bhagat Singh Chowk and his statue be erected there.

They said that the government had earlier tried to rename the place. "However, a group of people had obtained a stay order against it from court," they said.

Satya Paul said that the government should establish a gallery containing items about Bhagat Singh.

Nishter said that Bhagat Singh's deeds could never be forgotten. "He sacrificed his life for liberty. He taught the people the lesson that they could defy imperialism," he said.

Jatan Desai said that Bhagat Singh had sacrificed his life because he wanted to see followers of all religions living together in an independent country. "The name of Bhagat Singh will stay alive," Desai said.

Abdullah Malik, the Bhagat Singh Foundation president, said Bhagat Singh was a son of the soil. "He sacrificed his life in his struggle to end British rule. Students should be taught about his bravery and revolutionary ideas. Regardless of his religion, he should be remembered for his sacrifice for the nation," he said.

Imtiaz Rasheed Qureshi, the Bhagat Singh Memorial Foundation chairman, read out the Indian high commissioner's message on the occasion. "Shaheed Bhagat Singh was a revolutionary thinker. His writings and his life are characterised by an ability to criticise and challenge old beliefs and by ambition and hope for the common people," the message read.

Published in The Express Tribune, March 24th, 2015.