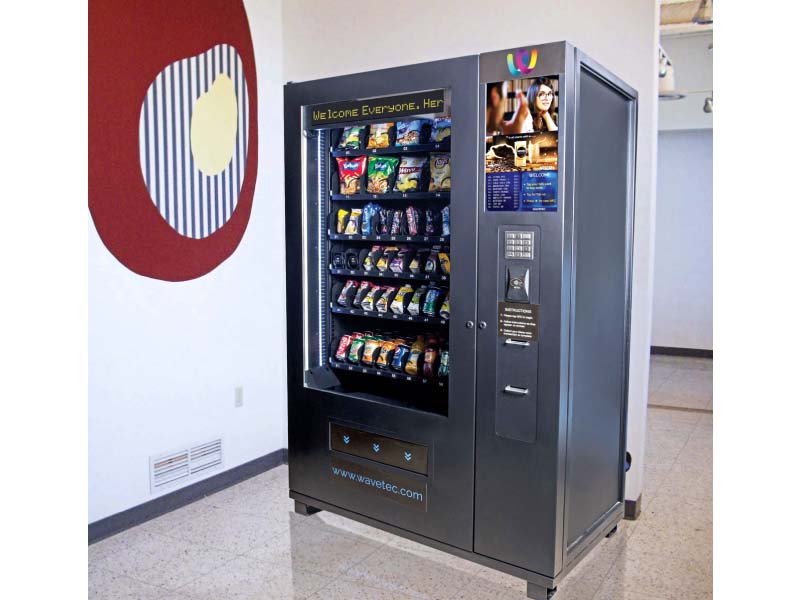 ---
KARACHI:



Wavetec – a Pakistani technology company headquartered in Dubai – is launching the country's first Near Field Communication (NFC)-enabled vending machines in April 2015 in a move that would promote the digital payment solution.




Though vending machines were introduced in mature markets more than a century ago, Wavetec – which specialises in Queue Management and Financial Display solutions – is the first Pakistani company to manufacture and launch the NFC-supported vending machines in the country, according to its officials.

From its frame to software applications, the machine has been developed by Wavetec at its Karachi office, said officials. Having a height of six feet, a three-foot width and three-and-a-half-foot length (depth), these made-in-Pakistan vending machines have the capacity to hold 350 items – snacks and beverages – and operate on NFC technology.

A form of contactless communication, NFC enables users to wave over their smartphones or tap their plastic cards to an NFC-enabled vending machine, which then dispenses the item selected by the user.

"As evident from the statistics of plastic cards, use of electronic money is limited in the country so we wanted to create an avenue for digital payments," said Wavetec's Chief Executive Officer Ahmed Fraz told The Express Tribune at his Karachi office.

The electronics major from NED University of Engineering and Technology said that Wavetec's vending machines will provide a platform to tap the unexplored market of digital payments in Pakistan.

Referring to what he terms as an inefficient system [cash-based transactions], the CEO said the cost of printing and moving currency – paper money and coins – is extremely high.

"If you convert atoms to bits, it can bring big efficiency to the [payment] system," said Fraz, adding that "Pakistan is ready for this transition."

Routes to enter the market

Since youth is quick to adapt to new technology, the company will start the rollout from educational institutes and corporate offices, Marketing Strategist Salman Arif says, and later expand it to other public places like hospitals, railway stations and airports.

The company will install up to 10 machines in the launching phase starting from Institute of Business Administration, Asian Institute of Fashion Design, Shaheed Zulfikar Ali Bhutto Institute of Science and Technology and the headquarter of the United Bank Limited. It plans to add 20 to 30 machines every month and take the total to 200 machines by the end of 2015 and 1,000 machines in two years, said officials.

"The machines will operate on both NFC cards and a smartphone app at the time of launch," said Wavetec Corporate Strategy Manager Saim Shibli Ehtesham.

How it works

It takes a couple of minutes to do a transaction, said Ehtesham, giving a demo as he tapped his card to the machine's NFC device – installed below an LED screen on the top-right of the six-feet tall structure. He then inserted a hundred-rupee bill to top up the card and selected a soda can from the menu – he pressed the button and the item was dispensed, for which he got an immediate confirmation through a text message on his mobile phone.

However, one doesn't need to use cash unless he runs out of balance on the pre-paid card. Users will also be able to top up their NFC cards directly through their bank account. The company plans to go cashless in the future by replacing cash with ATM cards. In fact, they don't plan to restrict its use to snacks and beverages only.

"Going forward, we also plan to introduce a payment mechanism for mobile phone top ups through these machines," said Ehtesham adding that they are currently in talks with Cellular Mobile Operators.

About 60% to 65% of the country's population is young and cellular teledensity is very high, according to Fraz.

"Almost everyone has a phone and soon everyone will have a smartphone," he said. "With this kind of power in your hand, you will see major changes in the digital payment system."

Published in The Express Tribune, March 21st, 2015.

Like Business on Facebook, follow @TribuneBiz on Twitter to stay informed and join in the conversation.
COMMENTS (6)
Comments are moderated and generally will be posted if they are on-topic and not abusive.
For more information, please see our Comments FAQ