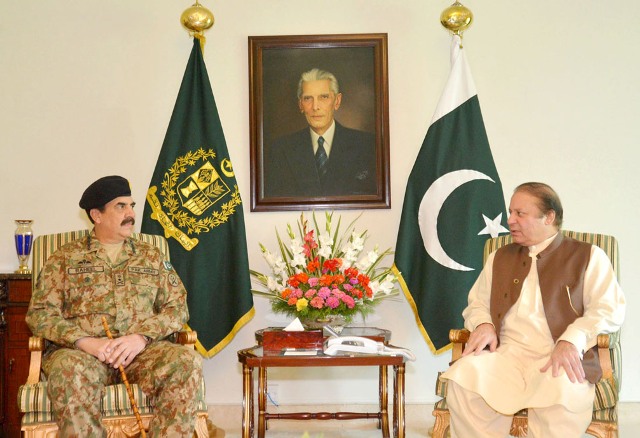 ---
ISLAMABAD: Prime Minister Nawaz Sharif and Army chief General Raheel Sharif met on Thursday to discuss the ongoing Operation Zarb-e-Azb and Karachi operation, Express News reported.

During the meeting the progress of the ongoing Operation Zarb-e-Azb launched in June 2014 against militants in North Waziristan was discussed. Further, the Karachi operation also came under discussion.

Finance Minister Ishaq Dar was also present during the meeting.

PM Nawaz earlier said no one will be allowed to keep or carry illegal weapons while asserting there is no space for terrorism in the country.

Speaking about Karachi operation, the prime minister said kidnappings for ransom have gone down since the start of the operation.

"The operation is in the interest of Pakistan," he added.

PM Nawaz also said that the country is facing challenges and policies are being formulated in this regard.

The meeting comes hours after convicted Muttahida Qaumi Movement (MQM) activist, Saulat Mirza's execution was halted following a confessional video early Thursday morning. The army chief and premier are expected to review Mirza's statement, according to sources. Further, the Karachi operation and a case filed against MQM chief Altaf Hussain by Rangers are also on the agenda of the meeting, the source added.

Just hours before his execution, MQM worker Saulat Mirza alleged in a supposed video confession that he killed former KESC Director Shahid Hamid on the directives of party chief Altaf Hussain.

Read: Shocking revelations: MQM chief ordered KESC director's assassination, claims Saulat

According to video released by a private television channel late on Wednesday, Mirza alleged that he received the order for the 'hit' from Altaf at MQM leader Babar Ghauri's residence.

Mirza revealed that orders were given on telephone by the party chief himself. Usually, the party chief would either give orders himself or through the likes of Babar Ghauri.

He further alleged that people whom the party wanted to save from police torture are provided protection in police stations through Governor Ishratul Ebad Khan. Even during the PPP's government, he was facilitated in jail and allowed to meet family members in separate rooms.

Saulat said he was not appealing to commute his sentence, but was asking to delay it.

Earlier, on February 16, PM Nawaz had met Corps Commander in Karachi where he was given a briefing on the implementation of the National Action Plan to eliminate terrorism from the country.

Read: Action should be taken against culprits behind Baldia factory fire: PM

The premier had criticised police officials for being slow to file charge-sheets in the Baldia town tragedy.