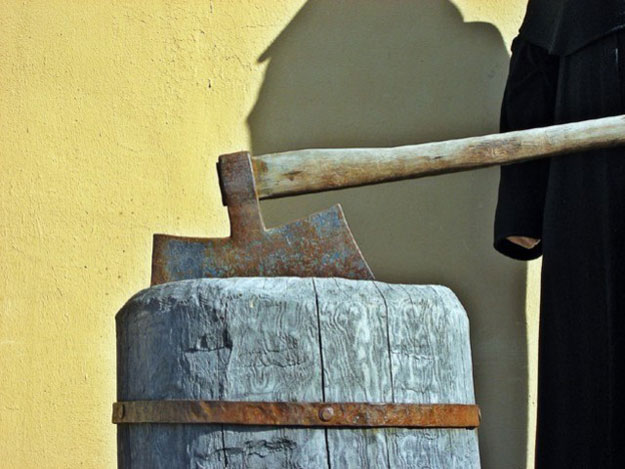 ---
RIYADH: Saudi Arabia beheaded a Pakistani and two Saudis on Tuesday, bringing to 48 the number of death sentences carried out this year.

That is more than half of the 87 people executed during all of 2014, according to an AFP tally.

Reasons for the surge are unclear but human rights group Amnesty International says Saudi Arabia is "well on track" to far exceed previous annual execution records.

The London-based watchdog says Saudi Arabia has regularly been among the world's top five executioners.

Among Tuesday's cases, Mumtaz Hussein Deen Ahmed, was executed in Medina after his conviction for smuggling heroin, the interior ministry said.

Najr bin Farajal Azmial Otaibi, a Saudi, was put to death in the western city of Taif for stoning and caning to death another man, the ministry said in a statement carried by the official Saudi Press Agency.

Another Saudi, Moeid bin Ali bin Moeidal Saadal Qahtani, was beheaded by the sword in Eastern Province for gunning down a man.

The ministry added that the execution of both Saudis was delayed until the children of their victims came of age to decide whether the sentences should be carried out.

Rape, murder, apostasy, armed robbery and drug trafficking are all punishable by death under Saudi Arabia's version of Islamic sharia law.

The cabinet affirmed on Monday that the kingdom's legal system ensures "justice for all", SPA reported.

But Christof Heyns, the UN special rapporteur on extrajudicial, summary or arbitrary executions, said in September that trials "are by all accounts grossly unfair" and defendants are often not allowed a lawyer.

He said confessions were obtained under torture.

The Gulf state has carried out around 80 executions annually since 2011.

In comparison, Iran has executed more than 1,000 people since January last year, the UN special rapporteur on Iran, Ahmed Shaheed, said on Monday.
COMMENTS (3)
Comments are moderated and generally will be posted if they are on-topic and not abusive.
For more information, please see our Comments FAQ