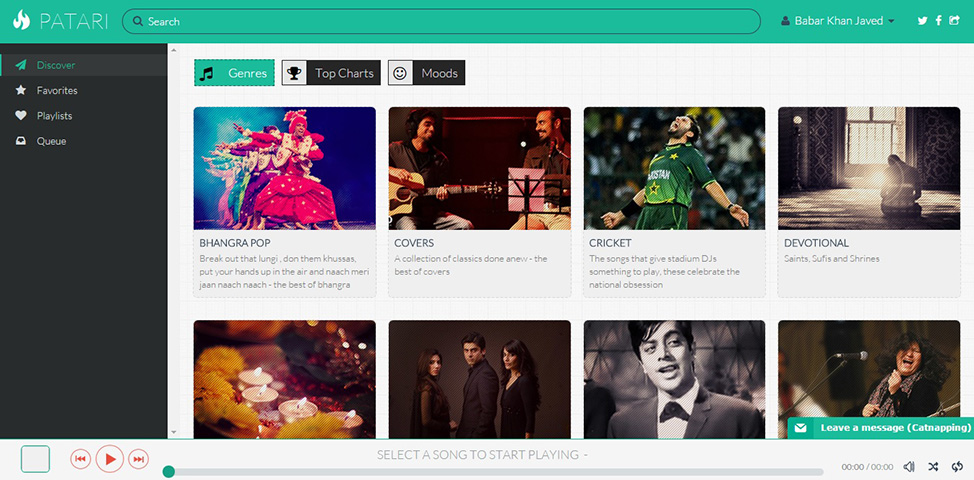 ---
Emerging bands have very few avenues to monetise their original content, says Nadir Shahzad, the director of Lussun TV. Haroon Rashid's Taazi tried to solve this, but failed to create any substantial impact, due in part to its confusing interface and navigation experience.

Now Coke Studio's tried, tested and replicated formula of fusion has become the main criterion for what is considered good music in mainstream consumption.

A group of techies from Punjab know of this predicament all too well and sought to create a solution.

We interviewed Patari founders Khalid Bajwa, Humayun Haroon, Faisal Sherjan, Iqbal Talaat on their venture's sustainability, competitive edge and future outlook.




The founders Khalid Bajwa, Humayun Haroon, Faisal Sherjan, Iqbal Talaat. PHOTO: PATARI FACEBOOK PAGE



Q. We already have Soundcloud. What sets Patari apart?

According to our research, a dedicated online medium that showcases old favorites and new discoveries from Pakistan's vibrant music scene does not exist. It's scattered all over the place and a lot of it is missing or in bad quality. We offer a huge library, all in one place, instantly searchable through our state of the art search engine (which was built specifically to deal with how people spell Urdu in English script), a beautiful interface and a user experience that's a complete delight.

We also solve the discovery problem. We assembled a team of musicians and journalists who have compiled over 50 playlists cutting across genres, decades and moods. Something like this has never been attempted and it brings artist discovery front and centre. It's a window for music lovers into the wonderful textured world of Pakistani music.



Q. Why should artists sign up?

Almost no site makes money for the artists. Once we launch our monetisation platforms, we'll cut artists in on our revenue. We also give them visibility and promotion through our playlists, our soon to be launched recommendation engine and radio feature, instead of a simple list-format that's impossible to digest -- something most other sites do.



Q. If there is no download option on a musician's website or Soundcloud page, a simple search can do the trick. The failure to adapt to how tech has transformed music consumption has made offline avenues the top revenue stream for musicians. With all that in mind, how will Patari make money?

We have three revenue models in mind: Audio ads that play after every three to four songs; premium subscriptions, allowing users to save songs offline, get rid of ads and have access to music in higher quality and sponsored playlists, catering to companies and brands like a "Good Morning" playlist offered by a breakfast brand.



Q. Given the focus towards conversion based engagement, I doubt if audio ads have what it takes. But the buzz this has generated makes sponsored playlists a great idea. Is anyone currently invested in the idea?

Monetarily, we're self-funded and incubated at Plan9, a government-backed incubator, which provides a little funding and support. Our team is mentally invested and dedicated too. Our developers consist of Furqan Razzaq and Usama Tariq, with Ahmer Naqvi leading content and assisted by Iman Shahid, Ebby Absar and Saad Arshad. Our engagement team consists of Sarah Saifi and Ayesha Siddiqui.




The founders Khalid Bajwa, Humayun Haroon, Faisal Sherjan, Iqbal Talaat. PHOTO: PATARI FACEBOOK PAGE



Q. Acquiring content creators as users is going to be tough. Why should artists pick you over Soundcloud?

First, there is no either-or, they can do both. We don't make any artist sign an exclusivity contract because we want artists to have more outlets to reach out to their fans, not less. That said, there are certain advantages artists will have when they come to Patari. First, we are focused solely on Pakistani music. We believe that Soundcloud cannot match the coverage and promotion we offer because its unique selling proposition is all genres of music, whereas our focused approach is our biggest strength. Second, we cut artists in on earnings.



Q. What is the market gap you are closing in on?

There is no place for Pakistani music lovers where you can find it all in an easy-to-find manner and no platform for artists to get promoted and be monetised. It was a huge gaping hole that was created when the government, music industry and tech sectors failed music. Pirates ran amok and the transition to digital was never made. This is the gap we are closing. Helping artists connect with their audience and make money from the digital reincarnation of music.



Q. How are you marketing the business?

Purely by word of mouth. We made sure we reach out to every user and give the brand a quirky and fun personality. The inherent beauty of Pakistani music did the rest. Our grand advertising spending so far is $0. We haven't paid for a single ad. We just gave it to a few friends, asked them to share screenshots and before we knew it, it was everywhere. Going forward, however, we are forging strategic partnerships with certain corporate and media entities which will help us reach a wider audience. We will also tap into the popularity of the artists we have signed up to reach their fan base.



Q. How many users have signed up so far, what is the daily expected engagement on the website and how will you optimise the online experience?

The numbers are staggering. We have invited about 800 users into the system (the invite queue is in thousands). These 800 people in two-and-a-half weeks have blown through over 100,000 songs. Average time spent on the website is about 25 minutes. So the engagement is absolutely phenomenal. Members really love this thing. We plan to optimise the experience by offering features like song recommendations to make them stick among a host of others.



Q. Any plans to hold offline events to help bands monetise?

There have been some internal discussions on this. Nothing on the horizon yet but we are in the very early stages of discussions with relevant entities.



Q. What's the agenda for the coming quarter?

More users. We are solely focused on growth. All the while improving the product itself. We are expanding and are now a team of 12. Among a whole host of upcoming features are a recommendation engine, apps, radio and social networking. After that, a public launch and taking it to the masses.