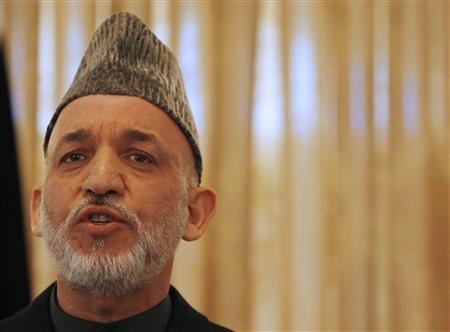 ---
As security cooperation between Afghanistan and Pakistan increases, former Afghan president Hamid Karzai said the country wants to maintain 'friendly' relations with Pakistan but should not succumb to pressure from it.

"We want a friendly relationship but not to be under Pakistan's thumb," Karzai said, in an interview with The Guardian, warning Afghanistan's historic struggles against British imperialism and Soviet invasion will go in vain if the country succumbs to pressure from Pakistan.

Karzai's statements come at a time when Afghan president Ashraf Ghani has taken a new step towards improving relations between the two neigbouring countries, putting aside years of hostility.

Even before assuming power, Ghani upheld good relations with Pakistan are key to ending instability in his conflict-torn nation and he now looks for help for Pakistan to broker a peace deal with the Taliban.

Read: Afghan poll hopeful Ghani wants 'special relationship' with Pakistan

Last month, a senior Afghan Taliban negotiator who had led the group's delegation to Beijing toured Pakistan for consultations amid reports that the ultraorthodox militia is willing to join the intra-Afghan peace dialogue.

Read: Afghan reconciliation: Senior Taliban negotiator visits Pakistan

A Taliban official, who did not want to be identified, confirmed the visit of Qari Din Muhammad, a member of the Taliban team at the Qatar-based 'political office'. The trip came amid growing speculation about possible peace talks in Qatar between representatives of the Taliban and Afghan government.






Ashraf Ghani, left, and Prime Minister Nawaz Sharif watch cricket together in Islamabad. PHOTO: XINHUA PRESS



Further, last month Ghani sent six army cadets to Pakistan for officer training, a move Karzai sharply criticized but former Pakistan president Pervez Musharraf hailed.

"We should not send troops for training in any of the neighbouring countries, particularly when they are sending us suicide bombers in return," Karzai said, referring to Taliban being allowed to operate in Pakistan.

Read: Cadets' arrival heralds stronger Pak-Afghan ties






Afghan army cadets with ambassador Janan Mosazai in Islamabad. PHOTO: AFGHANISTAN EMBASSY IN ISLAMABAD



Meanwhile, a Guardian interview with Musharraf last month stated for Musharraf, the most welcome development was Ghani's decision to send six army cadets for training at Pakistan's officer academy in the town of Abbottabad.

Read: Pakistan undermined Karzai's govt as he helped 'India stab Pakistan in the back': Musharraf

"Karzai infuriated both Musharraf and Ashfaq Kayani, his successor as army chief, by spurning offers to help train Afghanistan's embryonic army. Instead, Karzai sent cadets to India, where Musharraf believes they were "indoctrinated" against Pakistan," the article had stated.

Further, in the same interview the former military chief also said that the powerful Inter-Services Intelligence (ISI) cultivated the Afghan Taliban after 2001. "Obviously we were looking for some groups to counter this Indian action against Pakistan," he said. "That is where the intelligence work comes in. Intelligence being in contact with Taliban groups. Definitely they were in contact, and they should be," Musharraf said.

"Pakistan had its own proxies, India had its proxies, which is unhealthy. I do admit this, it is most unhealthy. It is not in favour of Afghanistan, or Pakistan or India. It must stop," he added.

Read: Afghanistan won't allow proxy India-Pakistan war: Karzai

Musharraf continued to lash out at Karzai as well stating, "In President Karzai's times, yes, indeed, he was damaging Pakistan and therefore we were working against his interest. Obviously we had to protect our own interest."

He added, however, that now the time had come to "totally cooperate" with Ashraf Ghani, the Afghan president since September.

Read: Avalanches in Afghanistan: Nawaz assures Ghani of support

However, although critical Karzai said he is loyal to his successor and rejected being at the centre of what one of his former colleagues describes as an emerging "pocket of opposition" to Ghani.

"Yes, I have differences, but I will not say anything," Karzai said. "I will keep mum, giving advice to President Ghani in private. I absolutely support this government," he upheld.






Afghan President Ashraf Ghani (L) and Prime Minister Nawaz Sharif shake hands at the Prime Minister House in Islamabad on November 15, 2014. PHOTO: AFP



But subservience to any foreign power is something Karzai says Afghans will never submit to, even if resistance involves huge hardships.

"I am a pacifist, I abhor violence – we would have been much better off if we had never fought against the Soviet Union," he said referring to the insurgency by the Mujahideen in the 1980s.

"But if we give up control over our own foreign policy then all the wars fought by Afghanistan against the British 100 years ago, and the Soviet Union, will be in vain," he added.