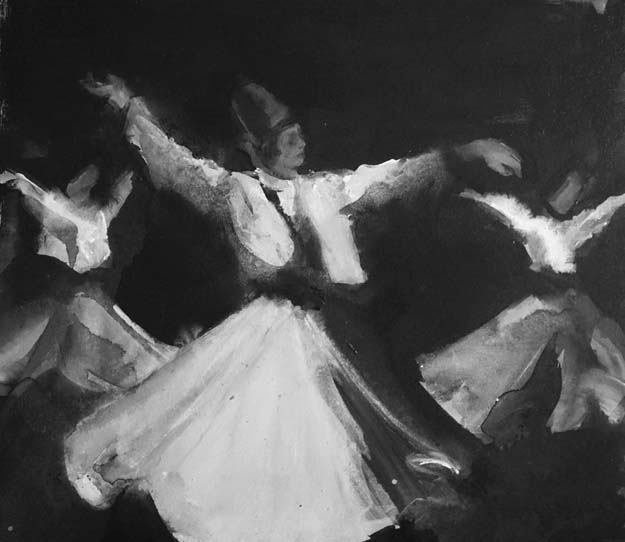 ---
ISLAMABAD: Depicting various segments of Pakistani society as well as the living environment, German artist Susanne Husemann put on display her latest mixed media artworks at the Nomad Art Gallery on Sunday.

The exhibition, part of various events to commemorate the International Women's Day in the twin cities, features Husemann's artworks which explore deep emotions of multiple subjects from women belonging to various fields of life to the whirling Sufi dervishes.




Using charcoal, acrylic and oil, the German artist's work is impressive and bold. The black and white work complemented with strong strokes of grey is powerful, mystical and engaging.

In her collection, she brings some noticeable pieces such as the "Dancing Sufi" an inexplicable piece of work that instantly develops an enduring relationship with the viewer.

A piece titled "Photographing", which is a side portrait of a photographer lost in her thoughts as she captures the chaos around herself, is simple and enigmatic at the same time.

One of her more powerful images in the collection, "ISIS2", depicts burka-clad women armed with weapons apparently holding another Muslim woman hostage.

In the artist's statement, she writes that home is part of one's cultural identity. Husemann says that she has been working in Pakistan for the past three years trying to define cultural identity in a completely different environment.

In my pictures, I show my thought and expression about Pakistan, she adds. It is an interesting and beautiful country, but unfortunately terror and violence has destabilised large parts of it, she adds.

Nageen Hyat, founder and director of the gallery, said Husemann's recent work reaffirmed the artist's reflection of the living environment in Pakistan.

"I have seen Susanne's work change from an almost purely European perspective to the evocative statement it has translated into in the current exhibition," she said.

Published in The Express Tribune, March 10th, 2015.

 
COMMENTS
Comments are moderated and generally will be posted if they are on-topic and not abusive.
For more information, please see our Comments FAQ