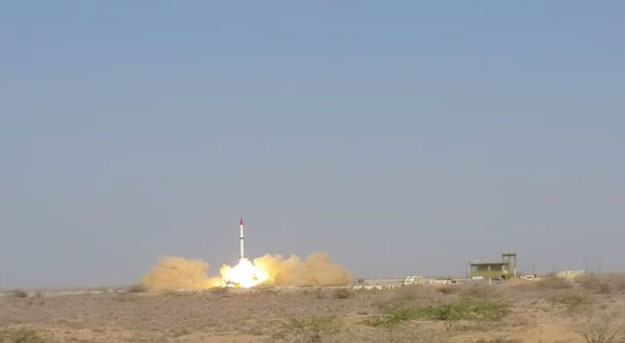 ---
Pakistan conducted a successful test launch of the Shaheen-III Surface to Surface Ballistic Missile on Monday, which is capable of carrying nuclear and conventional warheads to a range of 2,750 km, ISPR reported.


#Pakistan conducts successful test launch of #Shaheen-3 SSM,capable of carrying nuclear,conventional warheads to range of 2750 KMs

— Gen(R) Asim Saleem Bajwa (@AsimBajwaISPR) March 9, 2015


The test launch was aimed at validating various design and technical parameters of the weapon system at a maximum range.

Read: Pakistan test-fires new cruise missile

The successful launch, with its impact point in the Arabian Sea, was witnessed by senior officers from the strategic plans division, strategic forces, scientists and engineers of strategic organisations.

Director General Strategic Plans Division Lieutenant General Zubair Mahmood Hayat, while congratulating the scientists and engineers on achieving yet another milestone of historic significance, termed it a major step towards strengthening Pakistan's deterrence capability.

He appreciated the technical prowess, dedication and commitment of scientists who contributed wholeheartedly to make the launch a success.

Read: Pakistan test-fires new cruise missile Ra'ad

Lt Gen Zubair showed his full confidence over the strategic command and control system and the strategic forces' capability to safeguard the security of the country against any aggression.

The successful test launch and achievement of this range milestone has also been warmly appreciated by the president and Prime Minister Nawaz Sharif, who both congratulated the scientists and engineers on their achievement.


COMMENTS (45)
Comments are moderated and generally will be posted if they are on-topic and not abusive.
For more information, please see our Comments FAQ